Win Disney's Christopher Robin on DVD
Closing Date: 31st December 2018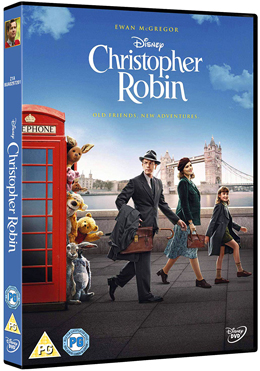 Newsletter Subscribers Exclusive*
Disney's Christopher Robin The Heartwarming, Live-Action Adventure for the Whole Family Comes Home on DVD and Blu-ray™ 10, Dec
This entirely new take on the Winnie the Pooh stories will transport parents back to the imaginative, carefree days of childhood and allow them to share their love of Pooh and friends with their own children. "When you are able to make people laugh and cry in the same movie and you are able to tell the story with integrity and ground it in reality and have the magic realism on top of it, it lifts your spirits and connects you with the people you love," says director Marc Forster. "We could all use a little bit of Pooh's heart and wisdom right now."
Bonus features provide a heartfelt look at the making of Christopher Robin, showcasing the magical artistry that brings the classic characters to life, the human actors' techniques for interacting with stuffed animals, and the filmmakers' passion for their project.
We are giving away 5 copies of Disney's Christopher Robin on DVD.
For your chance to win, simply answer the following question:
Who is Winnie the Pooh's gloomy donkey friend?
a) Roo
b) Piglet
c) Eeyore
*Winners will only be selected from our keep up to date subscribers