Win a WaterWipes with Soapberry bundle!
Closing Date: 3rd January 2019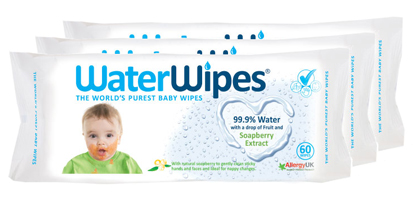 Newsletter Subscribers Exclusive*
WaterWipes with Soapberry is the brand new wipe from the world's purest baby wipes, WaterWipes. Designed for growing babies and made with 99.9% water, plus a drop of fruit and Soapberry extract, they provide the same purity parents rely on from WaterWipes while harnessing the natural cleaning properties of Soapberry. This makes them the perfect wipe to gently cleanse the hands, faces and bottoms of growing babies who are starting to try new foods and experience the world around them for the first time.
As babies start to grow and discover the vibrant (and often messy!) world around them, parents need to have the confidence to let them explore. WaterWipes with Soapberry offers parents the peace of mind to do just that – combining the purity of water, with the natural cleansing power of a herbal extract – WaterWipes with Soapberry are tough on mess but kind on baby's delicate skin, so you can clean and care without having to compromise.
So whether your baby is trying spaghetti with tomato sauce for the first time – and more ends up on their face than in their mouth, or if they're perfecting their crawl in a muddy garden – new WaterWipes with Soapberry have those exciting "first" messy moments covered.
To follow along and share your parenthood journey, follow @WaterWipes on Facebook, Twitter and Instagram.
WaterWipes are available in all major UK retailers.
We are giving one lucky entrant the chance to win a WaterWipes with Soapberry bundle (WaterWipes branded infant sized hooded towel, water bottle and x10 packs of WaterWipes with Soapberry)! For your chance to win, simply answer the following question:
WaterWipes with Soapberry is made with 99.9% water, a drop of fruit & what extract?
a) Strawberry
b) Soapberry
c) Blueberry
*Winners will only be selected from our keep up to date subscribers