Win a set of 12 Christmas DIY Crystal Card Kits
Closing Date: 14th December 2018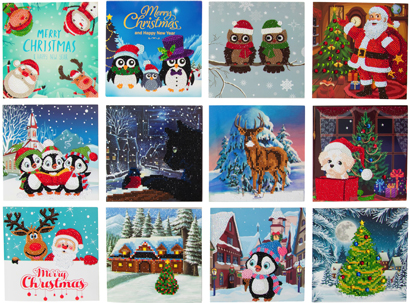 Newsletter Subscribers Exclusive*
Crystal card kits are craft kits, ideal for children and adults, which enable you to make your own sparkly and beautiful crystal cards. The technique, also known as diamond painting or 5D diamond painting, is similar to painting by numbers. Each crystal card design has a numbered, adhesive template. Using the amazing magic pencil (included), simply lift up the coloured crystals and place them on the corresponding numbered dots. They affix instantly! The technique is relaxing and therapeutic, and the result is a beautiful piece of rhinestone art which you can gift to loved ones. Crystal card kits are also a great way of making DIY Christmas cards. Making a crystal card takes 30-45 minutes. They are suitable for ages 8 and up.
The DIY Crystal Card Kit is available from www.crystalcardkit.com. For more information on Crystal Art, visit www.craftbuddyltd.co.uk
We are giving one lucky entrant the chance to win a set of 12 Christmas DIY Crystal Card Kits.
For your chance to win, simply answer the following question:
What snack is often left out for Santa?
a) milk and cookies
b) milk and apples
c) milk and crisps
*Winners will only be selected from our keep up to date subscribers