Win a newly launched Educational Resource set!
Closing Date: 31st December 2018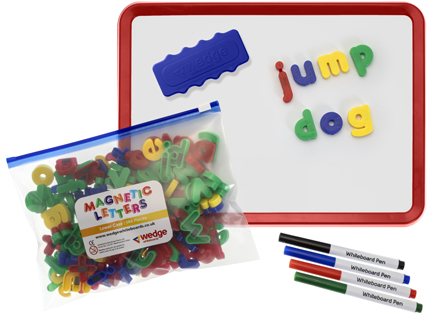 Newsletter Subscribers Exclusive*
Wedge Whiteboards have just launched a new range of educational resource sets, ideal for reception, KS1 and KS2, to support your child's learning at home in a fun and creative way.
The sets consist of our A4 Magnetic whiteboard the "Wedge Jotter" and comes with either a set of lower case, upper case letters, numbers and symbols or pattern blocks. A selection of dry-wipe pens and a board rubber.
The Wedge Jotter board is uniquely designed with its strong, continuous edge and corner ensure that this board can withstand the most boisterous of play and survive where many other boards on the market would fail. It is extremely portable, so excellent for use at home and on the move; its integrated flip out legs aid the development of writing skills and the hanging points enable you to proudly display your child's artwork or writing.
The sets are a perfect way for you to support your child at home by encouraging the development of their skills in reading, writing, numeracy and maths, but in a fun way – learn as they play!
For a 15% discount on every purchase of any 'Wedge Jotter Set' visit our website for your discount code www.wedgewhiteboards.co.uk/handy-homework-helper
Wedge Jotter Set is available for purchase at Wedge Whiteboards | RRP £29.99
We are giving two lucky entrant the chance to win a Wedge Jotter set.
For your chance to win, simply ask your child the following question:
How would they use their Wedge Jotter?
*Winners will only be selected from our keep up to date subscribers