Win a HOTEL TRANSYLVANIA 3 DVD
Closing Date: 20th December 2018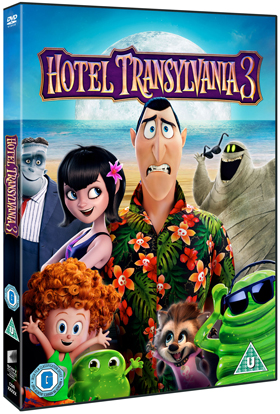 Newsletter Subscribers Exclusive*
The Drac Pack is back with HOTEL TRANSYLVANIA 3, which is available on Digital Download November 19 and on DVD, Blu-ray™ and 4K Ultra HD December 3.
This must-own family comedy, follows in the tradition of the blockbuster Hotel Transylvania franchise when Mavis surprises Dracula with a family voyage on a luxury, haunted monster cruise ship. Of course, the rest of the Drac Pack has to tag along, and that's when things get a little…batty. The monsters are having a great time, indulging in all of the shipboard fun the cruise has to offer, from monster volleyball to colossus-sized buffets and exotic excursions, but then the unexpected happens when Drac falls for the ship's mysterious (and dangerous) human captain Ericka.
The third film in this family-friendly monster franchise is the best reviewed instalment and you're invited along on the haunted cruise vacation!
We are giving away 5 HOTEL TRANSYLVANIA 3 DVD's.
For your chance to win, simply answer the following question:
Who surprises Dracula with a family voyage on a haunted monster cruise ship?
*Winners will only be selected from our keep up to date subscribers