Win LEGO® Star Wars™ Ideas Book
Closing Date: 30th November 2018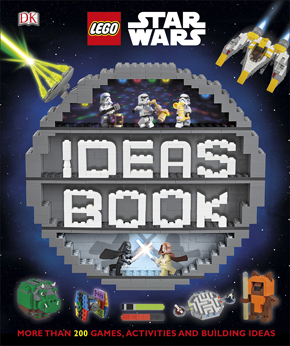 Newsletter Subscribers Exclusive*
LEGO® Star Wars™ Ideas Book features imaginative play and building ideas using your own LEGO brick collection, from LEGO projects that take just a few minutes, to builds to keep you occupied for hours. Set up a game of LEGO Star Wars skittles, create a pencil pot shaped like your favourite Sith or Jedi, build a fleet of tiny TIEs, design Darth Vader's family tree, and customise a podracer. Challenge a friend to take on a rathtar, mix up your minifigures, stage your favourite movie battle scene with LEGO Star Wars bricks - and much, much more!
LEGO® Star Wars™ Ideas Book is packed with a family friendly range of activities to inspire every LEGO Star Wars fan. What will you build?
LEGO® Star Wars™ Ideas Book is published by DK books | £17.99
© 2018 The LEGO Group.© & TM 2018 LUCASFILM LTD.
We are giving away 3 copies of LEGO® Star Wars™ Ideas Book.
For your chance to win, simply answer the following question:
Who is the main hero of the Star Wars movies?
*Winners will only be selected from our keep up to date subscribers