Watch Brand New Superwings on TINY POP and win a toy bundle
Closing Date: 14th December 2018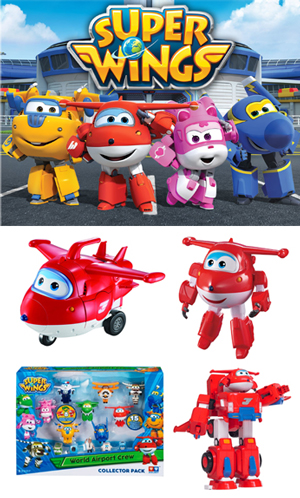 Newsletter Subscribers Exclusive*
Join Jett the jet plane on his travels around the world while he delivers packages to the children!
On every delivery, Jett encounters a new problem that he and his friends the Super Wings must work on to solve! The Super Wings aren't just regular airplanes: They have the ability to transform from planes into amazing heroes who can run, climb, lift, dig and even dive deep under the sea!
Freeview 207 | Sky 617 | Freesat 605 | Virgin 737
Watch weekdays at 12.30pm and weekends 8.15am and 1.00pm
@ 2018 Funny Flux / Alpha.All rights reserved
We are giving one lucky entrant the chance to win a Superwings toy bundle which includes Jett's Takeoff Tower playset (RRP £39.99), Jett's Super Robot Suit (£49.99), Robot Ready Jett (£34.99), World Airport Crew S2 Pack (£34.99). For your chance to win, simply answer the following question:
What does Jett encounter on every delivery?
*Winners will only be selected from our keep up to date subscribers