Win a copy of The Wizards of Once: Twice Magic
Closing Date: 31st October 2018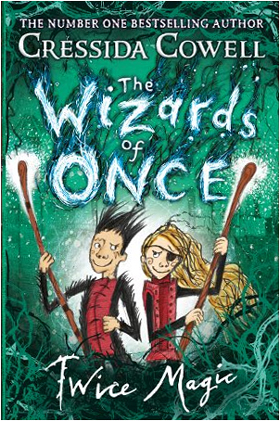 Newsletter Subscribers Exclusive*
This autumn comes THE WIZARDS OF ONCE: TWICE MAGIC, the hotly-anticipated second book in author-illustrator Cressida Cowell's new, #1 bestselling THE WIZARDS OF ONCE series, which launched last September to global acclaim.
Witches are creating havoc in the Wildwoods and danger lurks behind every tree trunk. Wish is in possession of a powerful, Magic Spelling Book. Xar has a dangerous Witchstain on his hand. Wish and Xar are separated by the highest wall imaginable. But time is running out ... It was unlikely that these heroes should meet in the first place. Is it possible they are destined to meet TWICE?
The Wizards of Once: Twice Magic is published
by Hodder Children's Books | RRP £12.99
We are giving away 6 copies of The Wizards of Once: Twice Magic.
For your chance to win, simply answer the following question:
What day does halloween fall on this year?
a) Wednesday
b) Sunday
c) Friday
*Winners will only be selected from our keep up to date subscribers