Win a Modibodi™ bundle!
Closing Date: 31st October 2018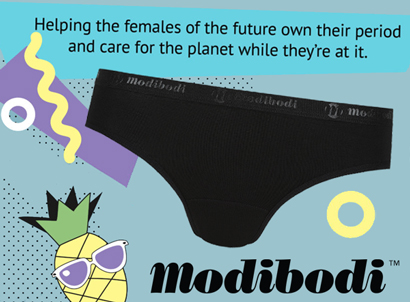 Newsletter Subscribers Exclusive*
Modibodi Helping Young Girls do Periods and Save the Planet
The Modibodi™ Teen range is a stylish range of underwear & swimwear especially designed for teenagers and young girls aged 8 plus, to help them manage their periods, perspiration and leaks in a fully comfortable and fully sustainable way.
The fashionable range of knickers are super thin (only 3mm), super comfy and amazingly absorbent (can hold between 1-2 tampons worth dependent on pair) and what's more they can be worn all day, with no smell or leaks in sight! The ideal solution for young girls who are starting their periods, during school, sports and everything in between.
Modibodi™ Teen can be purchased at www.modibodi.co.uk starting at £15.
We are giving one lucky entrant the chance to win a Modibodi™ bundle (3 x Classic Air Bikinis size 12 - 14yrs).
For your chance to win, simply abswer the following question:
Modibodi™ Teen knickers help young girls do periods and save the what?
*Winners will only be selected from our keep up to date subscribers