Get ready for more HANAZUKI on POP! Win a HANAZUKI toy bundle
Closing Date: 30th November 2018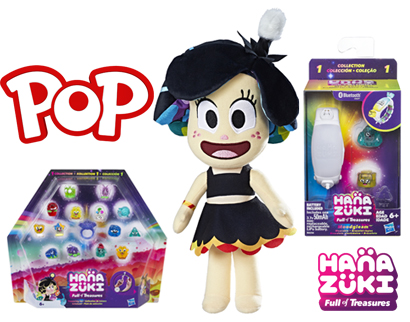 Newsletter Subscribers Exclusive*
Get ready for more HANAZUKI on POP! Set in a fictional galaxy comprising of countless moons, follow Hanazuki, a Moonflower who uses her emotion-based powers to protect her home from a dark force known as the "Big Bad" that drains the life and colour of anything it touches. Watch Hanazuki as she learns about her responsibilities and emotions and encounters other Moonflowers who seek to learn from her! We have a Hanazuki bundle up for grabs which includes a Hanazuki a Little Dreamer plush toy, Treasuring set, Moodgleam bracelet and Lucky dip bag…
Hanazuki is shown on POP! From 5th November, Weekdays at 7:30am.
Freeview 206 | Sky 616 | Freesat 603 | Virgin 736
Hasbro © 2018 HZKI Holdings, LLC. All Rights Reserved.
We are giving one lucky entrant the chance to win a HANAZUKI toy bundle.
For your chance to win, simply answer the following question:
How far is earth from the sun?
a) 149.6 million km
b) 9.6 million km
c) 6.9 million km
*Winners will only be selected from our keep up to date subscribers