Win 2 copies copy of Dog Diaries: Happy Howlidays!
Closing Date: 30th November 2018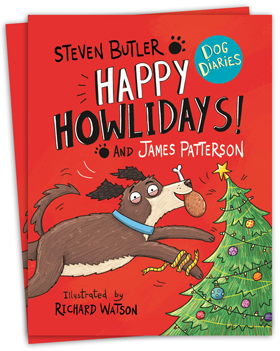 Newsletter Subscribers Exclusive*
In this follow-up to the hilarious illustrated novel Dog Diaries, Junior has been in the dog house after giving in to his doggy urges when Mom-Lady turned her back and left him alone with the freshly cooked Thanksgiving turkey. Because of this, Junior is determined to make Christmas the best one ever for his pet humans and redeem his GOOD BOY status.
Junior has never actually experienced a human Christmas before and his perfect plans get sidelined with the shocking appearance of something called snow, a tree that seems to have sprouted in the middle of the Picture Box Room, and packs of strange humans called Carol who come to the front yard and howl. It's all very confusing…
Dog Diaries: Happy Howlidays! is published by Arrow (Young) | RRP £5.99
We are giving away 5 sets of Dog Diaries: Happy Howlidays!
For your chance to win, simply answer the following question:
How strong is a dog's sense of smell?
a) 10 times greater than a humans
b) 40 times greater than a humans
c) 20 times greater than a humans
*Winners will only be selected from our keep up to date subscribers