Win a LANGUAGE LEARNERS bumper bundle!
Closing Date: 30th September 2018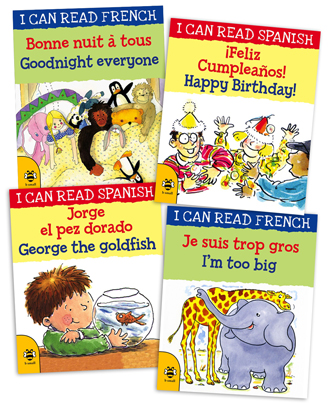 Newsletter Subscribers Exclusive*
BUILD CONFIDENCE IN YOUNG LANGUAGE LEARNERS
The single most useful thing a young language learner can do to succeed is to enjoy learning it.
It's no secret that encouraging language learners at home is a bit of an uphill battle. How many five year olds will devour a new book in French or Spanish just because it'll help them get a job when they're older? Or be better at maths? Well, maybe some! But, much like our beloved irregular verbs, they are probably the exceptions that prove the rule.
With this in mind, award-winning publishers b small are breathing new life into the bestselling 'I CAN READ' series of bilingual storybooks for children. These stories have been helping parents and teachers to build confidence in their young language learners since 1994. Bedtime stories or reading with a favourite adult are perfect opportunities to make language learning less intimidating. After all, children don't get embarrassed about mispronouncing a tough word or having to ask what something means. Above all, stories are fun and provide a chance for adult and child to spend some time together. These are the best ways to encourage language learning in our children.
View the full range of I CAN READ FRENCH and I CAN READ SPANISH at www.bsmall.co.uk
We are giving away 2 LANGUAGE LEARNERS bumper bundles (10 books per bundle).
For your chance to win, simply tell us which bundle you would like to win.
a) I CAN READ FRENCH
b) I CAN READ SPANISH
*Winners will only be selected from our keep up to date subscribers