Win a copy of Unlock Your Imagination
Closing Date: 30th September 2018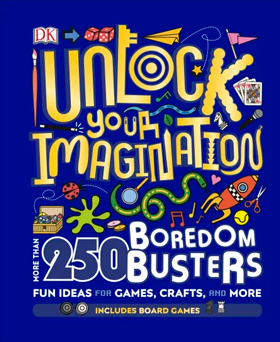 Newsletter Subscribers Exclusive*
This kids' book is packed with fun facts and rainy day activities: the perfect boredom buster for screen-free, on-the-go entertainment. Your child will be able to:
Unlock your Imagination is packed with fun ideas. Take it wherever you go to keep bored kids busy and entertained. Whether it's a rainy day or a sunny afternoon you'll find plenty to make, play, and do.
Comes with a free double-sided board, counters and a press-out dice that can be used to play chess, draughts, and snakes and ladders.
Unlock Your Imagination is published by DK Books | RRP £16.99
We are giving away 3 copies of Unlock Your Imagination.
For your chance to win, simply answer the following question:
Unlock your Imagination features how many boredom busters?
*Winners will only be selected from our keep up to date subscribers