Win a WORD BANDIT game
Closing Date: 31st October 2018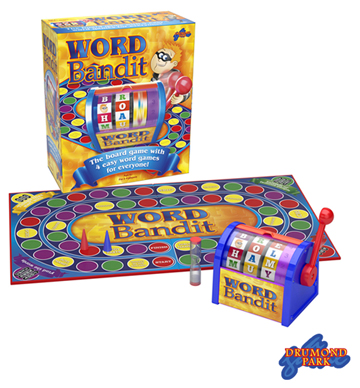 Newsletter Subscribers Exclusive*
True to form, those inimitable creative minds at Drumond Park have come up with yet another brain-teasing, family-friendly classic in the making! The wheel-whirling WORD BANDIT team game was created entirely in-house, and is a board game with a difference. At its centre is a wheel-spinning letter machine, just like a small 'one-arm bandit'. There are four easy word games to be played in two teams of any number, or two individuals, so it's a great way to get the whole family involved and having fun!
Players choose to select from one to four rows of random letters to: find famous people, think up words in well-known categories, find things that 'begin with' (such as boys' names) or spot short words spelled out by the letters on show. This brilliant game is full of suspense and energy… and guaranteed to bring family members of all ages together, for some quality sharing times!
WORD BANDIT | £24.99, age 8+
We are giving 3 WORD BANDIT games.
For your chance to win, simply answer the following question:
How many vowels are in the word family?
*Winners will only be selected from our keep up to date subscribers