WIN a Garmin Vivofit Jr 2 fitness watch! #GetKidsintoSurvey
Closing Date: 26th October 2018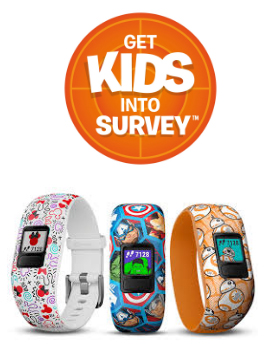 We'll be awarding one of these amazing devices to each of the SIX children who most impress Elaine with their enthusiasm for surveying!
What could you win?
The Garmin Vivofit Jr 2 fitness watch is waterproof and has a colour screen. Use it to unlock fun facts and a mobile adventure trail, to set family challenges (and get parents off the sofa!) and to connect to the smartphone app. Choose from Star Wars, Stretchy Avengers, Marvel or Minnie Mouse.
The first 500 applicants will receive a #GetKidsintoSurvey sticker pack
How to enter
Pick ONE kind of surveyor from the following types:
Land (for measuring property boundaries)

Mine (for mapping mines and quarries)

Hydrography (for monitoring and mapping seas and rivers)

Forestry (for measuring trees, their heights and conditions)

Building (for dealing with construction)

Utilities (for dealing with gas or water).
Then do some online research to find out what the surveyor does and what kind of equipment they use (children can get help with this from their family, friend or teacher.)
Then Elaine wants to receive a DRAWING showing the chosen surveyor using the correct kind of equipment for their job, plus a WRITTEN DESCRIPTION (of up to 50 words, on the back of the drawing) describing what the surveyor is doing and why. Don't forget, surveyors can be women as well as men!
Where to send your entry
Entries can be emailed to win@getkidsintosurvey.com or posted to Elaine Ball Technical Marketing, Keepers Cottage, Fellbeck HG3 5EU. The deadline is midnight on 26 October 2018. Don't forget to tell us:
Child's name

Contact number

Contact email

School name

Your full address



Key dates
Winners will be chosen by Elaine, with the help of a local survey company, on 1 November 2018. One Vivofit Garmin watch will be awarded to the best entry in each of the 6 surveying categories. The winning entries will be reproduced in the Primary Times Christmas special edition. For more information, visit our facbook page.