Win a copy of DINOSAUR: A Photicular® Book
Closing Date: 30th September 2018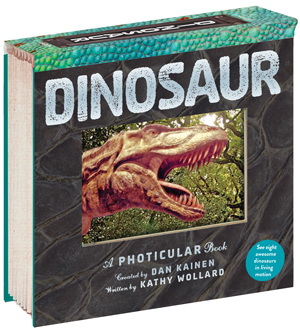 Newsletter Subscribers Exclusive*
We see their bones in museums. We pore over their imagined likenesses in books. We love the films. Now see dinosaurs come to life as you open a book slowly in your hands.
Unlike many illustrated books, in Dinosaur: A Photicular® Book you see a moving film clip as you open the pages. Dan Kainen takes readers on an exciting expedition, dinosaur by dinosaur, using innovative lenticular-based technology, precision sliding lenses and original four-colour video imagery. The informative and lively text by science writer Kathy Wollard sets the scene for the eight awesome dinosaurs portrayed in living motion. Packaged in a foil-stamped hardcover, this spectacular book of 'motion-pictures' will astonish and amaze.
Dinosaur: A Photicular® Book is published
by Workman Publishing | RRP £19.99
We are giving away 3 Dinosaur: A Photicular® Book.
For your chance to win, simply answer the following question:
A person who studies dinosaurs is known as a what?
a) Archaeologist
b) Astrobiologist
c) Palaeontologist
*Winners will only be selected from our Keep up to date subscribers