Win a One4all Thank You Teacher Gift Card worth £100!
Closing Date: 27th August 2018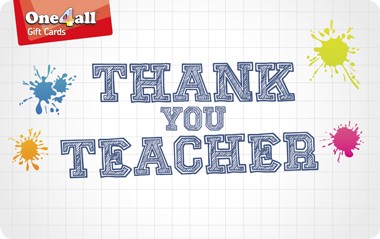 Newsletter Subscribers Exclusive*
Whether it's the time they dedicate, the lessons they teach or the support they offer along the way, teachers play such an important part in young lives, helping to shape futures and reminding us to reach for the stars.
It's no wonder then that so much emphasis is placed on selecting just the right gift for our children's favourite teachers, yet it can be a minefield. To avoid teacher receiving ten boxes of chocolates or purchasing something they don't really need, then look no further than the One4all Gift Card. You can even chip in with all the parents in your little one's class to give a gift that is sure to put a smile on teacher's face.
One4all, the Post Office gift card, can be spent in over 50,000 outlets nationwide, including high-street favourites such as M&S, John Lewis, Debenhams, H&M, Primark and Argos. With so much choice, your child's teacher is sure to find something they really love.
Not only is it suitable for all budgets – it can be topped up with anything from £10 - £400 – but it can also be purchased easily from any local Post Office or ordered online from the comfort of your sofa or desk.
To ensure the gift is truly personal, those purchasing the gift card online can take advantage of One4all's online personalisation service, where gift cards can be personalised with a unique design, photograph and message.
Perhaps teachers receiving the gift card want to treat themselves to some new desk accessories? In which case they can enjoy shopping with retailers such as Waterstones, WH Smith and HomeSense, where they can find an array of books, stationary and desk accessories.
If it's something for the home they are looking for, then recipients can pick up gadgets, home and garden furnishings and electricals from retailers such as TK Maxx, John Lewis, Currys, and B&Q.
Style-conscious teachers can polish their summer holiday look by indulging in some new additions to their wardrobe from House of Fraser, H&M, M&S, Topshop, Oasis and River Island, to name but a few – the options really are endless.
Alternatively, adventure-seeking individuals can use their gift card to book an exciting experience or trip by shopping with Red Letter Days, Theatre Tokens, Super Break and Cities Direct.
Those who want to unwind can redeem their One4all Gift Card at SpaSeekers, Spafinder Wellness 365 or head to Go Outdoors or Cycle Republic to purchase all they need to embark on a refreshing outdoor activity.
One4all, the Post Office gift card, is available in an exclusive Thank You Teacher design and can be purchased either online or at any Post Office nationwide. Mrs Fleming from Colmore Infant and Junior School was crowned as the 2018 winner of One4all Gift Cards' national competition. #ThankYouTeacher
We are giving one lucky entrant the chance to win a One4all Thank You Teacher Gift Card worth £100!
For your chance to win, simply watch the video and answer the following question:
Who won One4all's "search for the UK's best teacher" competition?
a) Mrs Madden
b) Mrs Fleming
c) Mrs Shaw
*Winners will only be selected from our keep up to date subscribers