Win a copy of Rory Branagan (Detective)
Closing Date: 31st March 2018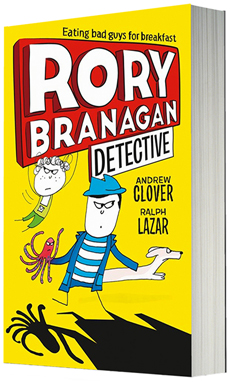 Newsletter Subscribers Exclusive*
Meet RORY BRANAGAN – he eats bad guys for breakfast. Well, not ACTUALLY. But he IS the best detective in town. First in a hilarious seven-book, comedy-crime series for readers of 8+
Hello. I am Rory Branagan. I am actually a detective. People always say, 'How do you become a detective?' And I say, 'Ahhhh… you don't just FIND YOURSELF suddenly sneaking up on baddies, or diving out of the way as they shoot, or hurtling from an open plane towards the ground! You have to want it.' And what made ME want it? I needed to find out what happened to my dad…
There are seven books in the RORY BRANGAN (DETECTIVE) series and this is the first, in which you meet Rory and his accomplice Cassidy as they investigate the poisoning of Rory's next door neighbour. Rory's adventures are all highly illustrated so you can see everything he gets up to in glorious black and white.
Rory Branagan (Detective) is published by HarperCollins Children's Books | RRP £6.99
We are giving away 10 copies of Rory Branagan (Detective).
For your chance to win, simply answer the following question:
Who is Rory's accomplice?
*Winners will only be selected from our Keep up to date subscribers