WIN FAMILY VOUCHERS TO SUPPORT OUTDOOR PLAY WORTH £250 & ENTER THE GERMOLENE SCHOOLS COMPETITION TO WIN A £5,000 GRANT TOWARDS OUTDOOR PLAY EQUIPMENT
Closing Date: 6th October 2017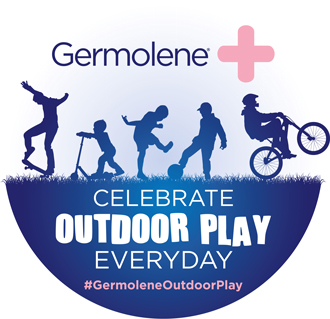 Outdoor play is an essential part of childhood development but the findings of a new survey by Germolene[1] have found that only 56% of children today have the opportunity to play outside after school every day. When you compare this to parents – 80% of whom said they enjoyed the freedom and frolics of outdoor adventures when they were young, it is clear a little more encouragement could make a big difference to the time children spend in the fresh air.
To support childhood development through embracing the great outdoors, Germolene Antiseptic Cream,* an effective treatment for minor cuts and grazes, is working with The Wild Network, a charity which encourages children to roam free and play wild. The Wild Network aims to tackle the problems of children losing touch with nature and provide opportunities for children to connect with the outdoors through building a network of community organisations.
To encourage more children to CELEBRATE OUTDOOR PLAY EVERYDAY Germolene is giving away three Toys R Us vouchers to create some excitement and enthusiasm amongst kids (and parents) to embrace nature, wilderness and outdoor play!
Almost all (95%) parents recognise the many benefits of outdoor play, including physical exercise, social interaction and developing cognitive skills,[1] and 72% believe that experiencing occasional cuts and grazes is important for childhood development.[1]
To help you and your family celebrate the outdoors safely we've rounded up some of the top reasons to give digital devices the backseat and instead get your trainers on:
Become Self-Aware
Outdoor adventures will help develop a child's understanding of healthy risk, helping them become more self-aware by learning what their limits and strengths are and how to make decisions for themselves. So control those protective instincts and remember that a bump or scrape along the way is part of growing up.
Boosts Creativity
One of the most naturally wonderful things about young children's minds is their vivid imaginations and fearless creativity. However, in today's technology age, it's important that this ability isn't lost. A leading study has shown that being outdoors can help boost creativity, help improve attention span and enhance performance on mental tasks[2].
Reduces Stress
Stress is something typically associated with adulthood however with the spotlight on mental health and wellbeing, there have been increasing reports of stress in childhood. However, research has shown that being around nature can help reduce feelings of stress and anxiety, with stress hormones and blood pressure both found to fall after exposure to nature[3].
Improves Social Interaction
The freedom of outdoor play enables children to practice valuable communication skills and understand teamwork. Whether through a nature trail or competitive game, outdoor play encourages children to share ideas and knowledge, listen to their peers, take and give direction and become more understanding of others.
TIME TO GET OUTDOORS AND CELEBRATE OUTDOOR PLAY EVERY DAY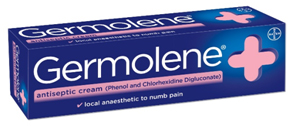 Germolene Antiseptic Cream is there for multiple family first-aid needs. Germolene is a dual action treatment that works as an antiseptic, local anaesthetic and emollient to soften the skin. The non-greasy, water-based cream also helps prevent secondary infection from minor cuts or grazes, burns or scalds, as well as blisters, stings and insect bites.* Contains phenol and chlorhexidine gluconate. Always read the label.
A family first aid favourite for over 90 years, Germolene is suitable for the whole family. £1.79, 30g pack, Boots.
YOUR CHANCE TO WIN!
To be in with your chance to win one of three Toys R Us vouchers, worth £250, send us a description of your family's favourite outdoor memory to germolenecompetition@thisispegasus.co.uk. Do they love to ride their bike? Go hunting for bugs? Or is a family game of rounders or football what puts a smile on their face? Don't forget to include your contact details with your submission.
PLUS - WIN MORE WITH GERMOLENE'S SCHOOLS COMPETITION…
Germolene is also hosting a competition to win one of two £5,000 grants towards outdoor play equipment for your child's school. Competition closes on 2nd October 2017. Visit www.mumsnet.com/education/school-gate/win-bespoke-play-equipment-worth-5000 to find out more details and enter!
* Germolene Antiseptic cream contains phenol and chlorhexidine gluconate. Always read the label
[1] Survey of 2,000 parents, commissioned by Germolene, conducted by OnePoll in April 2017