Naomi House & Jacksplace roll out 'Could you be my nurse?' recruitment campaign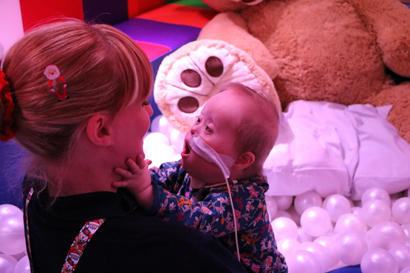 Naomi House & Jacksplace, the Winchester-based hospice charity, has rolled out a new campaign in a bid to recruit nurses to care for the life limited and life threatened children and young adults across central southern England that come to the hospices.
The 'Could you be my nurse?' campaign has been designed to demonstrate the diverse working environment an applicant can expect if they were to apply. It is focused around the happiness and joy the children and young adults share with each and every nurse, but it also recognises the importance of the vital medical care the nurses provide. The campaign has been written from the perspective of a child: 'I need expert care… could you be my nurse?'
Naomi House & Jacksplace wants to promote the fact that, as well as having the largest Practice Education team in the country, all nurses in employment at the hospices are valued, rewarded and developed. A nurse at Naomi House & Jacksplace will be there on good days, difficult days and last days, which is why the hospices' team of nurses believe their job is quite possibly the most rewarding in the industry.
Sadie, Nurse at Naomi House & Jacksplace, said: "Being part of the nursing team at Naomi House & Jacksplace is so rewarding. I have to constantly maintain my clinical skills to ensure I can deal with the most complex medical conditions. I have time to get to know the children so that I care for them in the best possible way, making sure they enjoy their stay at the hospices in a safe and happy environment."
The charity hope to encourage lots of skilled nurses to join the Naomi House & Jacksplace 'family' of nurses. Should a nurse, with over 12 months post-qualification experience, want to apply or find out more, they can visit: www.naomihouse.org.uk/nurse.