Primary Times Children's Choice Review of Tröll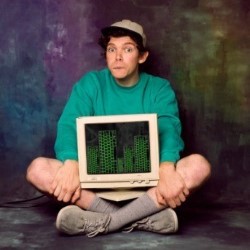 Primary Times' reviewer said:
Tröll manages to be both funny and moving, the performances are skilled and the ingenuity of the set and props has to be seen to be believed.
It is 1998 and Otto is a 12 year old boy, recently moved to a new house so his elderly grandmother can move in with his family. His time spent in an online chat room makes up for his unhappiness at his new school. Then a troll appears in the walls and the story moves from everyday moments at the breakfast table to a darker place, including a couple of genuinely creepy troll sightings.
The set looks simple: a computer desk with some tangled cables, and a large screen as a backdrop, but when the show starts we discover that with the ingenious use of light and shadow we have a window into Otto's world. Tröll is filled with references to technology circa 1998, which gets lots of nostalgic laughs from the adults in the room, but the many layered story comes down to the idea that everyone has monsters: fears, sadness, depression; but they can be conquered - at least for a while - with the help of family. T
Tröll ends with a brief visit to the present, a really satisfying ending to a show that deals with difficult topics with humour and genuine feeling. This is recommended for ages 10+ and I'd say that is accurate, my 11 year old daughter didn't get all the nuances and layers of meaning that my 15 year old did, but she still really enjoyed it and we spent a while talking it over on and off for the rest of the day.
Our young reviewers said:
Doris, 11, said "I liked the accents and the shadow art and the puppet. It had good acting" while her 15 year of brother thought " it was really good. The story was well done and the acting was impressive. I thought how it was done initially as a video game was a cool idea and the way they used everything on the stage was really well done. It was a cool concept, well executed, and I would recommend it."
Reviewed on 31 July 2019