Win a Harry Potter Hogwarts Backpack and Mug
Closing Date: 31st December 2018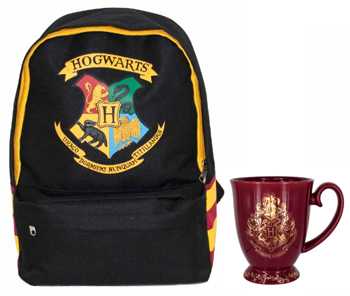 Newsletter Subscribers Exclusive*
High street retailer, Ryman Stationery has the ultimate selection of magical presents for your friends and family. Whether it's from rebuilding Hogwarts in a 3D puzzle or settling down for a game of wizards chess, there is something to suit every Harry Potter fan out there.
Send them off to school with this beautiful Harry Potter Hogwarts Backpack (£24.99). With plenty of space for storing books, quills and parchment, it's the perfect accompaniment for Charms, Transfiguration or Defence Against the Dark Arts lessons. But don't forget your wand!
Who needs a trip to Hogsmeade when you can make the perfect concoction at home with this stunning Harry Potter Hogwarts Mug (£9.99)? Whether you prefer Butterbeer, Pumpkin juice or Gillywater, it will taste all the better with this goblet-shaped vessel.
We are giving one lucky entrant the chance to win a Harry Potter Hogwarts Backpack and Mug.
For your chance to win, simply answer the following question:
Dumbledore is an old English word for what?
a) bed bug
b) butterfly
c) bumblebee
*Winners will only be selected from our keep up to date subscribers