Easter events and activities for children in Norfolk

Gardens, parks, attractions and even houses will be scattered with Easter eggs this March and April as eagle-eyed youngsters go on the hunt for these oval shaped objects, and hope for a surprise and a treat!
Easy to Make: Easter Wreath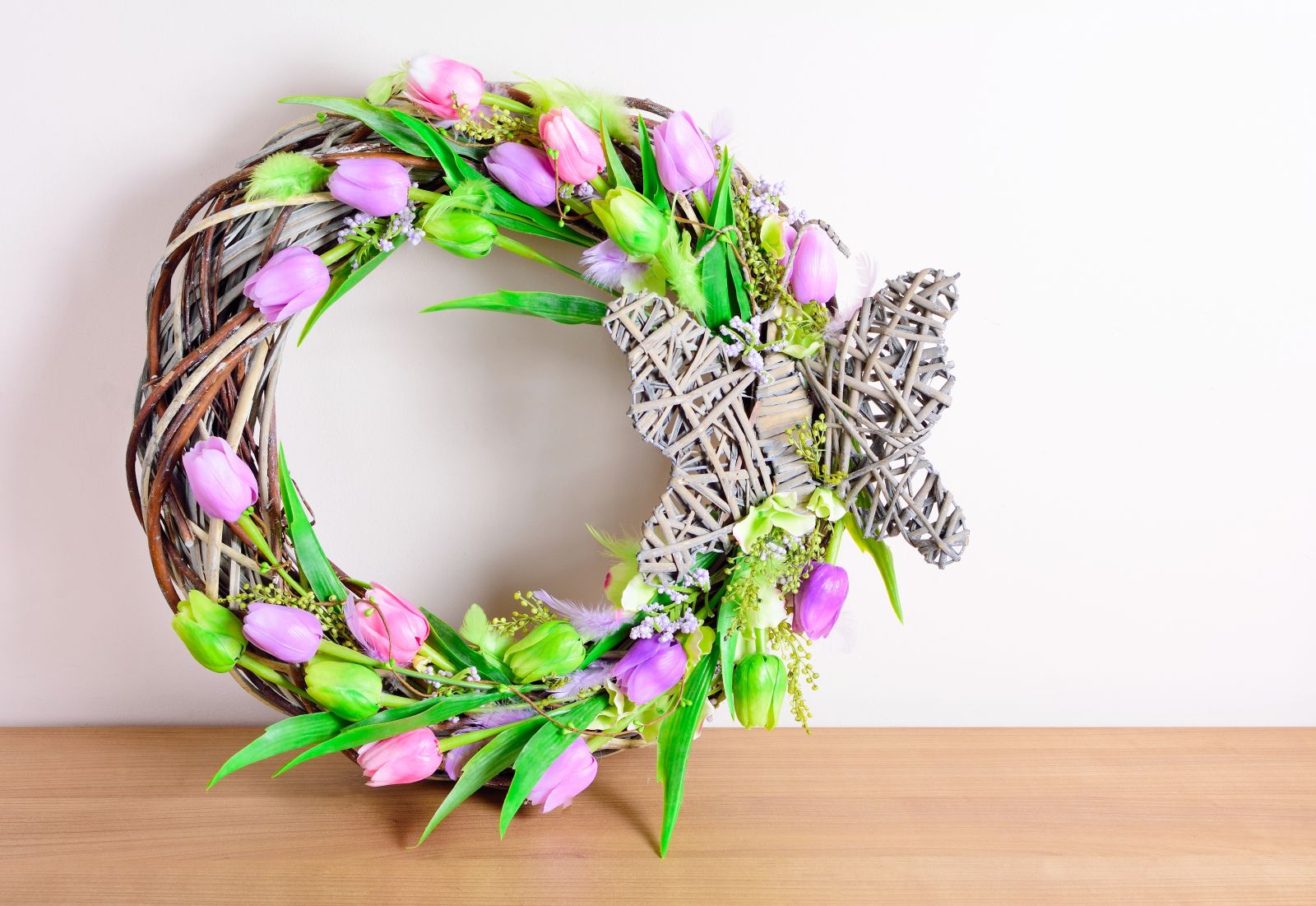 Christmas isn't the only time of year when people dress their doors with decorative wreaths. A recent trend has seen many people sprucing up their front doors with displays of bright colour and spring materials in the shape of an Easter wreath! Creating one is really simple and something the children can add an extra special little touch to. Take a look at Pinterest for some inspiration on materials and design.
Easy to Make: Easter Bunny Bunting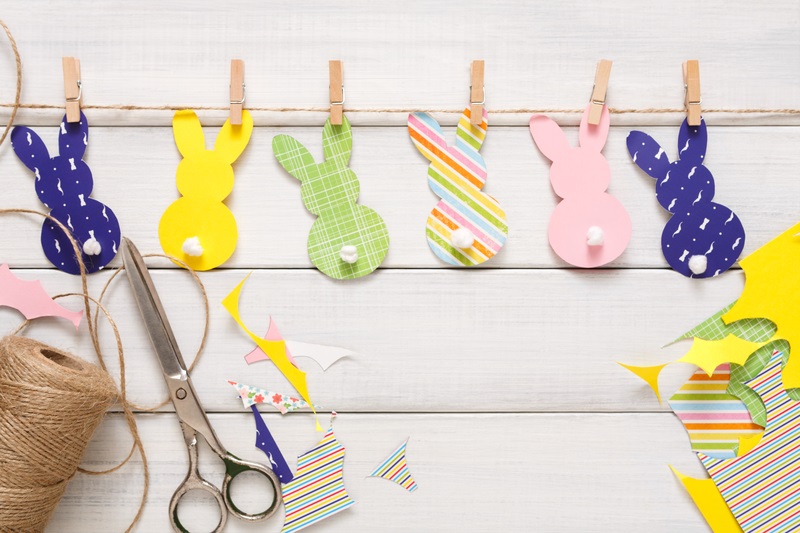 Decorate the walls and window frames with these bright little bunnies. To make: buy a variety of patterned card, place a basic bunny template on top of each piece of card and draw around it. Cut this out and glue on a small ball of cotton wool for a tail. To finish, attach each bunny to a natural piece of string using mini wooden pegs.
Easy to Make: Eggy Lambs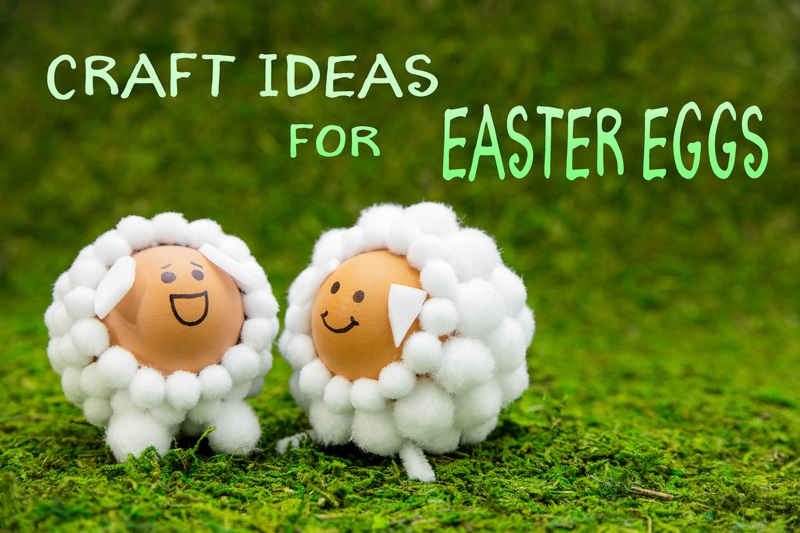 These funky-looking lambs will look a treat perched on a mantelpiece or sideboard. Plus they're so easy to create – simply roll small pieces of cotton wool into balls and glue these to the surface of the egg. Cover the whole egg with cotton wool, leaving a space at the front where you can add a funny face!
Easy to Do: Painting Easter Eggs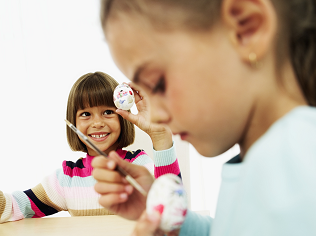 Very young children may wish to use hard-boiled eggs, whilst slightly older-children may use hollowed-out eggs. Cover the smooth glass-like surface of egg with acrylic paint. Using a mixture of soft brushes, coat the egg in a base colour. To add detail, use a fine brush dipped in paint or glitter, or use finely-tipped pens.
Easy to Make: Easter Nest Cakes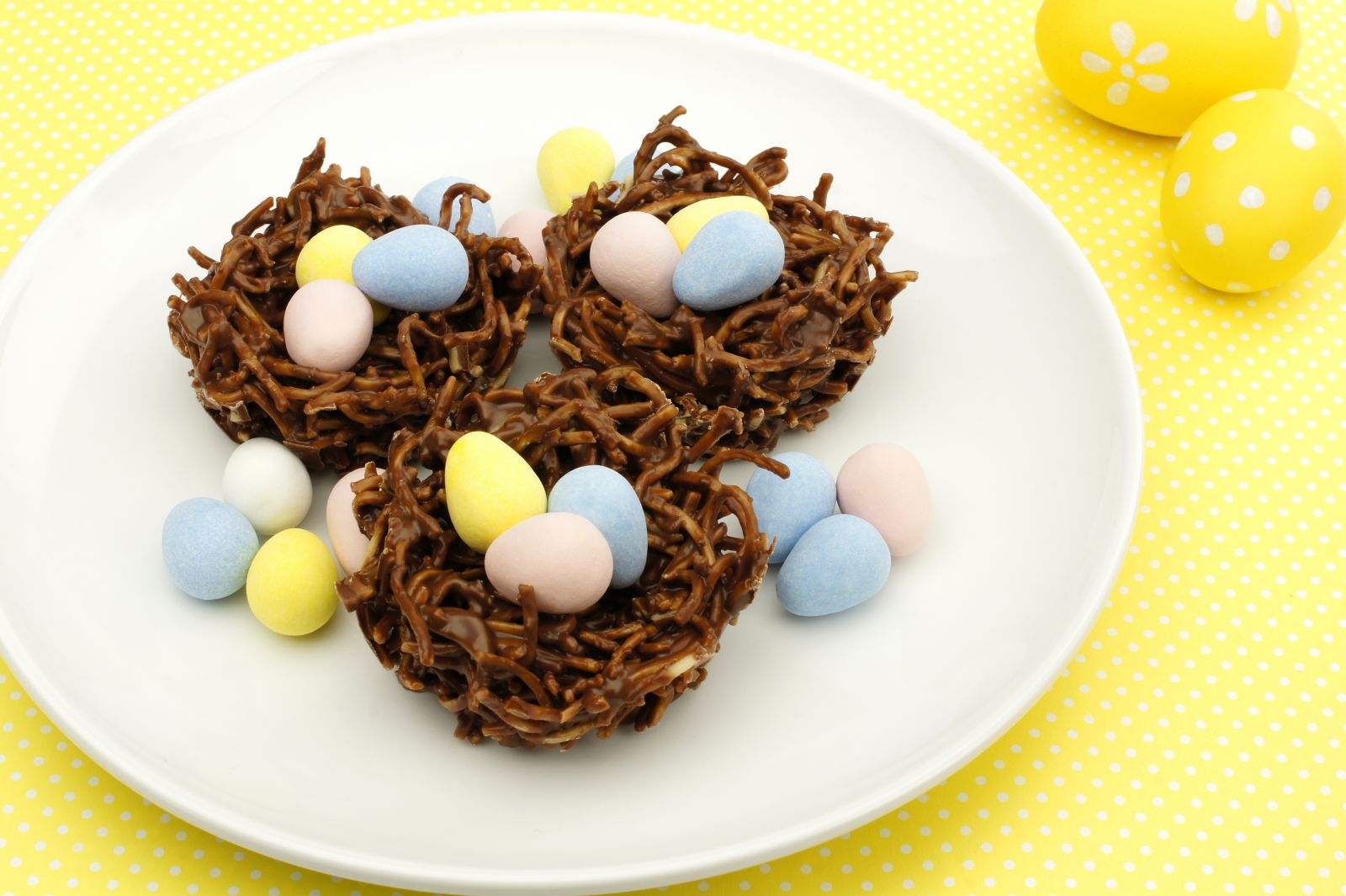 You'll need some nests to cradle all those tasty eggs this Easter. So how about making these equally tasty nests:
Ingredients: Shredded Wheat; Cooking chocolate; Milk Chocolate Mini eggs
Crumble up the Shredded Wheat in a bowl. Then melt the cooking chocolate in a separate bowl placed in a pan of boiling water. Carefully remove the bowl and slowly pour the melted cooking chocolate over the crushed Shredded Wheat. Combine together. Then get the kids to shape the mixture into nests in the cake cases. Finish, by placing 2 or 3 chocolate mini eggs onto the top of the cooled down nests.
So, why is Easter on a different date each year?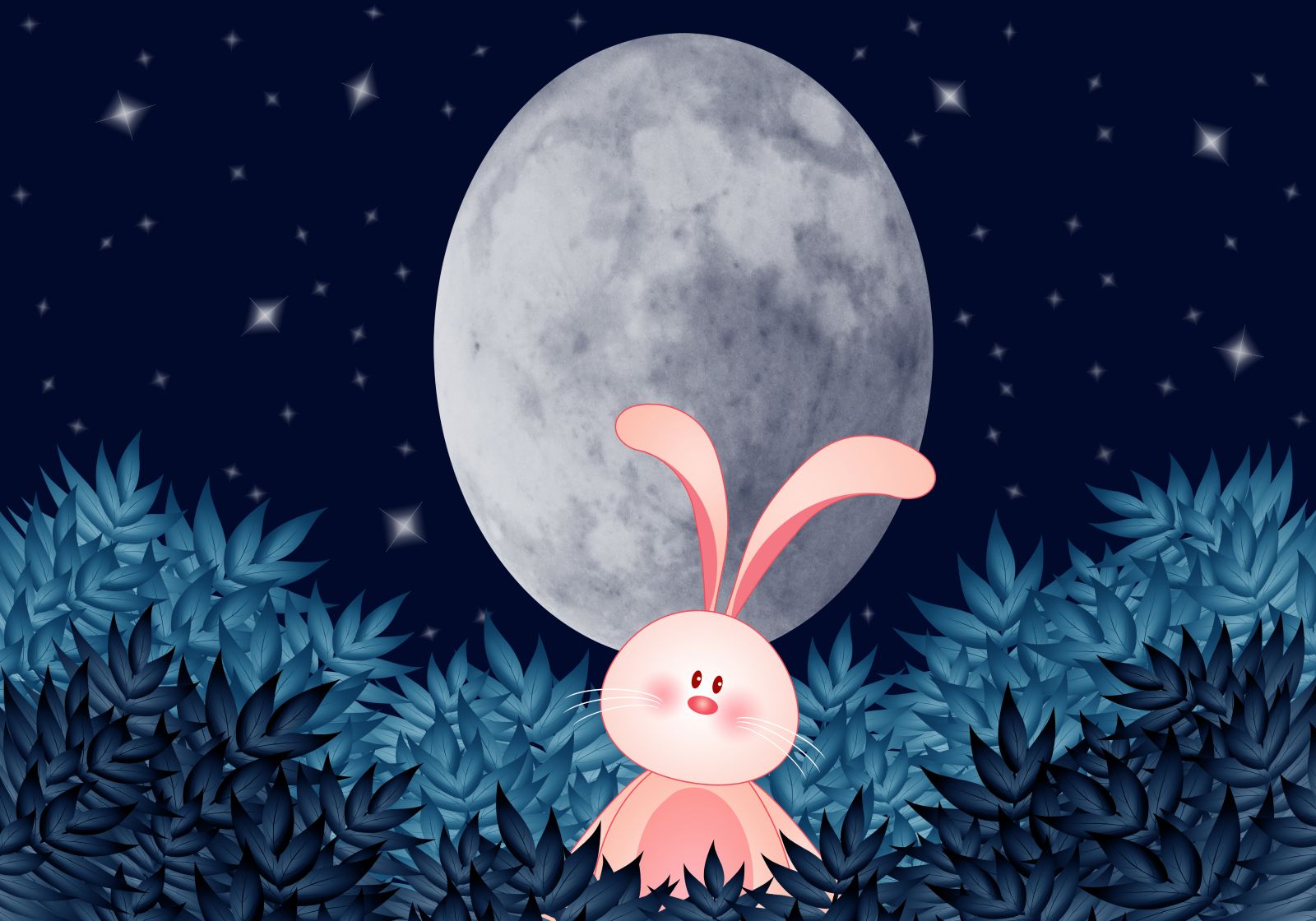 Have you ever wondered why Easter falls on a different date each year? Well, the reason for this lies with the decisions made by the first council of the Christian church, also known as the Council of Nicaea, in the year 325 AD.
This council used a complex formula to calculate the future dates of Easter.
The council decided that Easter should be celebrated on the first Sunday after the full moon that occurs on, or just after, the spring equinox.
The church set a fixed date for the spring equinox as 21 March and established that Easter can take place between 22 March and 25 April. This year, Easter Sunday is on 21 April.
Yet, this year, the full moon and the spring equinox actually occur on Wednesday 20 March. So, shouldn't Easter be held on Sunday 24 March instead?
Astronomically speaking, yes it should.
However, the ancient calculations did not consider lunar motions for our times. The key point here is that an ecclesiastical full moon does not necessarily happen on the same date as the actual full moon.
In 2019, the first full moon after 21 March occurs on 19 April, so consequently Easter will be celebrated on Sunday 21 April.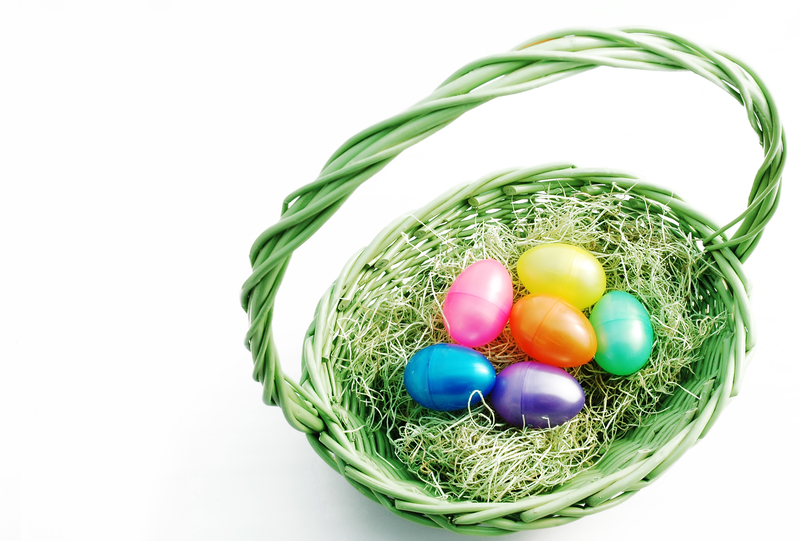 Easter egg hunts with a difference:
The Easter Egg Hunt is usually pretty-high up on the Easter activity list but what are the alternative options to searching for chocolate eggs?
Primary Times has been on its own 'hunt' for fun ideas that will get the kids active, listening and counting… Here they are:
Matching Sound Egg Hunt
Test your child's auditory processing ability by creating a game that will encourage them to match a sound in an egg case to an image of the item that is making the sound (in the egg case) on a printed sheet of paper.
You can fill the egg cases with items such as coins or pasta shapes or seeds.
Once all the eggs and sounds have been matched, the children can be rewarded with a treat.
Make the Kids Work for their Chocolate Treats!
Lay on some fun energy-burning Easter egg hunts for the kids.
Simply hide several plastic empty egg cases around the house, garden or local park and fill them with little notes inscribed with a physical activity to complete.
Each egg has a fun mini exercise challenge for the kids. For example, this could be: do ten star jumps; run on the spot for 2 minutes, do a roly-poly.
After all that exertion, the kids will have earnt their chocolate treat!
Colour Matching and Maths Egg Hunt Game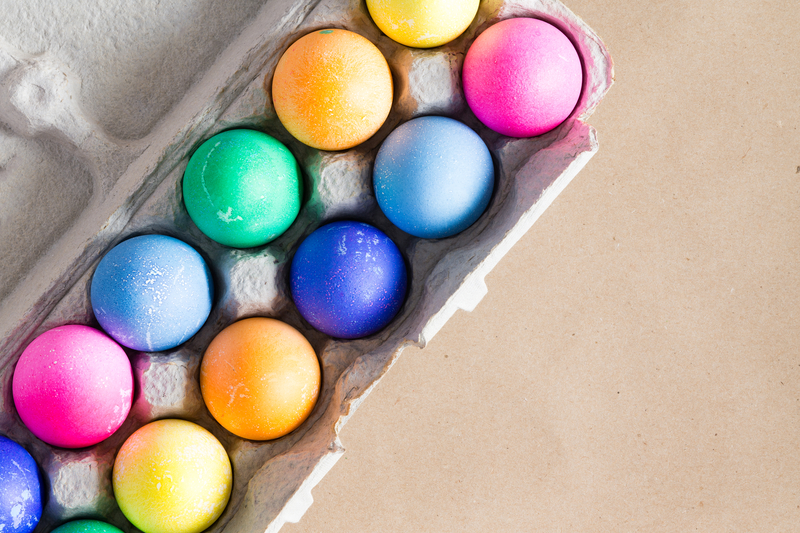 This is a simple game where children hunt for coloured eggs.
You may wish to use mini chocolate eggs wrapped in different coloured tin foil and hide them around the garden.
Once all the eggs have been collected they can be separated by colour and counted – and then consumed!
The Story of the Easter Egg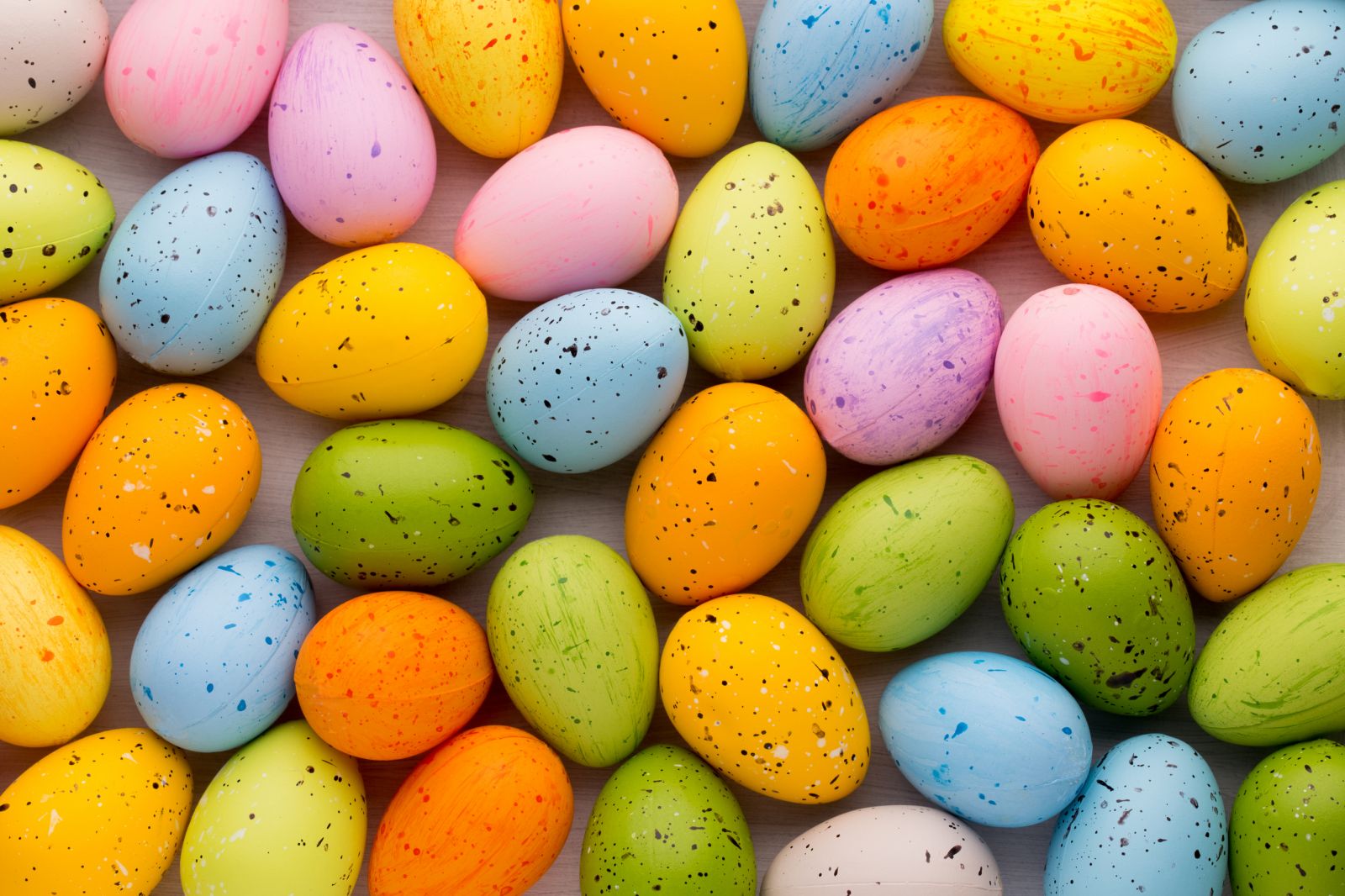 The humble egg is the food most synonymous with Easter. It symbolises the start of new life, rebirth and fertility. Many people associate the egg with Christian values at Easter, yet the egg also played a role in lots of pre-Christian festivals celebrated by the Ancient Egyptians, Persians and Romans.
In the Middle Ages when people were unable to eat eggs during Lent they began to decorate and store them for Easter Sunday and the tradition of the egg hunt began.
The first chocolate Easter eggs were made in France and Germany in the early 19th Century, and in 1873 the first British chocolate Easter egg was produced by Fry's.
Cadbury quickly followed producing a chocolate egg in 1875 and by 1892 produced 19 different types of eggs.
Today, the UK chocolate Easter egg market is worth more than £220 million with sales growing every year. Cadbury's Crème Egg is the most popular and over 500 million eggs are made every year.
Easter Adventures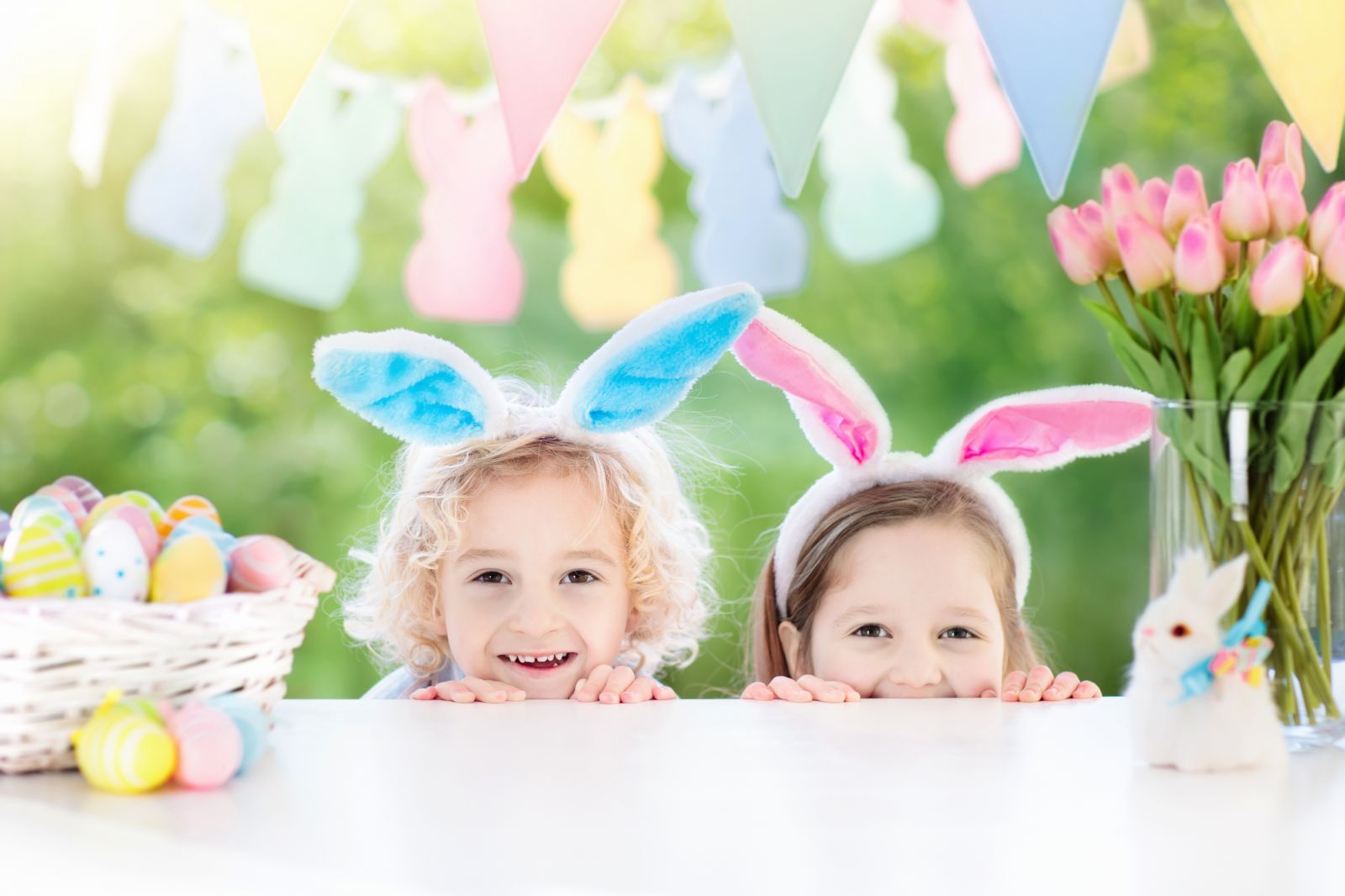 Easter trails, scavenger hunts, egg and spoon races, bottle-feeding lambs, beach cleans – you name it – there's plenty of adventures to be had this spring.
Easter Egg Hunts are usually a big hit with youngsters who simply love becoming mini-explorers and what's more, this fun activity can be affordable.
You have the choice of hosting an egg-citing Easter Egg hunt in your back garden or local park, or alternatively head to a local attraction and enjoy the novelty of the occasion with lots of other families.
During the Easter school holiday, should the weather allow, go outdoors each day for some free fun.
It's easy to distract children with uncomplicated activities such as spotting and naming clouds, searching for mini-beasts or seashore critters, visiting and perhaps bottle-feeding newborn lambs, watching a spider weaving a web, and following slimy snail trails. It's all great fun and doesn't cost a penny!
Easter Eggstravaganza at Pensthorpe
There's no better time to get acquainted with Pensthorpe than at Easter when some of the reserve's cutest and cuddliest new residents emerge, so go armed with wellies, a sense of adventure and be prepared for an Easter Eggstravaganza that provides fun for all the family.
Take part in seasonal craft-making activities and an Easter-themed trail. Join the daily golden egg hunt, from 6 April to 22 April, to find the golden egg, which will be nestled in a different top-secret location each day. Find it to win a family day pass to the reserve. For more information call 01328 851465 or see www.pensthorpe.com
Easter Bunny Hunt at Gooderstone Water Gardens
Gooderstone Water Gardens is Breckland's enchanting garden with ponds and flowing waterways spanned by 13 bridges. It boasts beautiful grassy paths that lead to secret places – in fact, it's the sort of garden children love, and admission is free!
Over the Easter weekend, from 19 to 22 April, there will be an exciting Easter Bunny Hunt where children can go in search of 12 cheeky bunnies hiding in the garden, and again on Norfolk Day on 27 July, a Bishy Barney Bee Hunt (ladybirds!) will take place. Find Gooderstone Water Gardens near Swaffham, PE33 9BP. See www.gooderstone watergardens.co.uk
Easter Time at Amazona Zoo
Amazona Zoo in Cromer is home to over 200 tropical animals, a large, well-equipped indoor play area, 'Jungle Tumbles' an outdoor adventure play area with jumping pillows and a lakeside cafe where squirrel monkeys and ring-tailed coatis perform acrobatics a few feet away.
There's an educational stamper trail where children can spot each animal and many feed talks too.
For something egg-stra special, this Easter every child will receive a free creme egg! See www.amazonazoo.co.uk
It's Lambing Season at Church Farm
Easter is always very special at Church Farm, as all the visitors can see lots of new baby arrivals. There will be plenty of newborn, woolly wonders to see in the Lambing Yard and bottle feeding sessions will be taking place throughout the day.
You may even be lucky enough to see a lamb being born. Other new arrivals include the Easter Chicks who are cute, fluffy and are a perfect size to hold. Whilst you're there, don't forget to visit the fabulous indoor play area, go along the pedal tractor trail and hop on one of the tractor and trailer rides.
For details ring 01366 382162 or visit www.churchfarmstowbardolph.co.uk/
Solve the Hopping-Mad Mystery at Holkham
Easter at Holkham, from Friday 19 April to Monday 22 April, is always egg-citing and this year will be no different.
There's a hopping-mad mystery to solve where Rabbit has lost his hat and hopes you can help him find it.
Search high and low for clues in Holkham Hall, the Field to Fork Experience and the walled garden, whilst also enjoying crafts, quizzes, sports and lots more along the way. There's a chance to get your face painted and meet real owls too. See www.holkham.co.uk
Easter Treats at Fairhaven
Fairhaven Woodland and Water Garden in South Walsham, in the heart of the Norfolk Broads, has a busy programme of special events during the Easter holiday.
Early birds can join the pre-bookable Dawn Chorus boat trip on Saturday 6 April to get close to Fairhaven's wildlife. Then there's a Scavenger Hunt taking place every day from Saturday 6 April to Easter Monday 22 April, from 10am to 5pm. Plus, on Good Friday, 19 April, from 11am to 4pm, there's the annual bookable Easter Egg Hunt. Look out for the colourful eggs that lead to a chocolate egg prize. In addition, there will be face painting and Easter crafts for the children. Call 01603 270449 or see www.fairhavengarden.co.uk
Hop Aboard the Wells the Walsingham Light Railway
Hop aboard the Wells and Walsingham Light Railway's White Rabbit Easter Trail, that will be running every day from 6 April to 22 April. Join Alice in Wonderland to hunt for clues down the line, on one of the four trains that will be running daily.
Over the Easter weekend, from 19-22 April, every child will receive a boxed Easter Egg for every completed trail, for an extra £1. Booking will be available for groups of 12 or more. For enquiries call 01328 711630 or see www.wwlr.co.uk
WOW! It's Night Time at Norwich Puppet Theatre
Enjoy a magical nocturnal treat with the little ones this Easter, as Little Angel Theatre take their stunning adaptation of Tim Hopgood's picture book WOW! It's Night Time to Norwich Puppet Theatre.
Described as "the ultimate bedtime story" by The Stage, the show follows the adventures of a curious little owl as she discovers the wonders of night time - from the big, bright moon to the foxes deep in the forest. Catch the show from 12-13 April – it's perfect for children aged 2-5 years. See www.puppettheatre.co.uk or ring 01603 629921.
All aboard the Easter Eggspress
Hop on board the Easter Eggspress at the Bure Valley Railway over the Easter school holiday, from 6 to 22 April.
An egg-citing day is promised for all the family and a free Easter Egg will be given to each child that completes the Easter trail. In addition, colouring activities and a decorated Whistlestop Café add to the Easter themed event.
For train times, prices and information see www.bvrw.co.uk
Egg-citing Easter at Hoveton Hall Gardens
Children can uncover clues around Hoveton Hall gardens to win their prize in an Easter Treasure Hunt from Friday 19 April to Monday 22 April.
The Easter Treasure Hunt is included in the entry to Hoveton Hall Gardens which costs £7.50 per adult, £4 per child aged 4 -16 years and the under 4's go free.
The under-fives can join in with a mini Easter egg hunt in the walled garden. The Gardens will be open from 10.30am to 5pm. See more at www.hovetonhallestate.co.uk
Easter Adventures at Blickling Estate
There's plenty of family fun to be had every day from Saturday 6 to Monday 22 April at the Blickling Estate.
Children will be able to take a closer look at the butterflies and moths found at Blickling as they celebrate the spring awakening and enjoy a delicious Cadbury's chocolate treat when taking part in the Easter nature adventure around the colourful garden.
Special adult garden tickets cost just £11.50 (Gift Aid), with children and National Trust members going free. A trail price of £2.50 applies to all who take up the challenge. See www.nationaltrust.org.uk/blickling
Easter Fun for Little Ones at Norwich Lower School
On Saturday 13 April, Norwich Lower School will be hosting a special Easter event, from 9.30am - 11am, for children aged 3-4 years. This will be a free, fun-filled, Easter-themed morning filled with fun activities including arts, crafts, games and an Easter egg hunt. Spaces are limited so do register early to avoid disappointment. Call 01603 728430 or visit www.norwich-school.org.uk
Did you know?
Easter chocolate sales make up 10% of Britain's annual spending on chocolate.
The UK chocolate Easter Egg market is worth in excess of £220 million.
If you laid all the Cadbury Creme Eggs made in a year from end to end, it would stretch from Bourneville, Birmingham to Sydney, Australia.
Easter is the second most popular time of the year for eating chocolate.
J.S. Fry of Bristol produced the first chocolate eggs in 1873.