Children's Birthday Party Ideas in Norfolk

Your child's birthday - it's the one day out of the 365 that is extra special to you and your child, so naturally you want to make it a memorable day!
To help you decide what to do for your child's party, what party treats to buy or what entertainer to use we've added some top tips for you here...
So, what are the latest Children's Party Trends for 2019?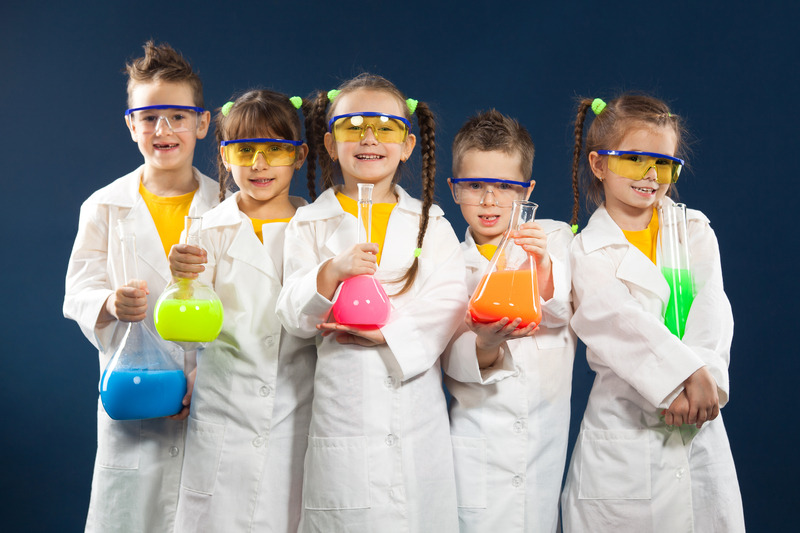 Science and Slime Parties
Science and Slime parties engage young minds with a combination of thrilling demonstrations, wacky experiments and plenty of hands-on activities.
Many science party companies run age-related, interactive games so children can concoct exciting things such as gooey DIY slime, amazing bubbles and colour-changing potions. Enormous fun and educational too.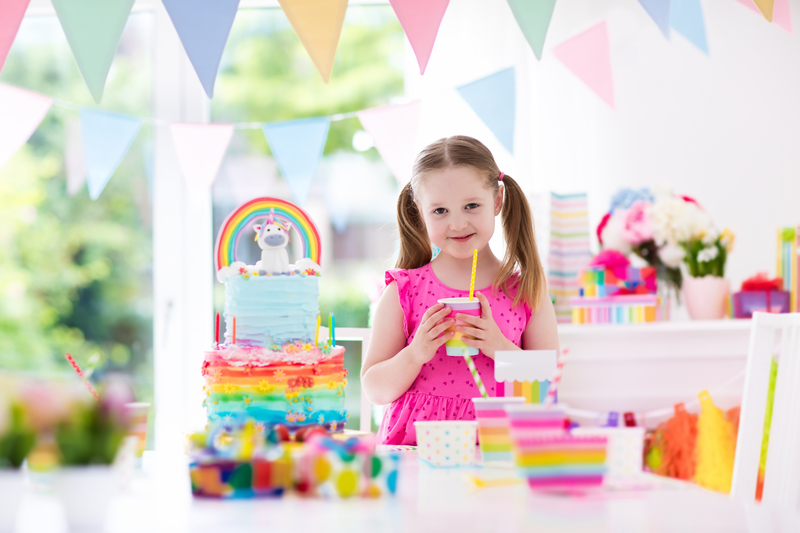 Unicorn, Rainbow and My Little Pony Parties
Unicorns, Rainbow and My Little Pony are big news at the moment, so if your child wants this as his or her party theme, you will be spoilt for choice as many shops and partyware stores currently provide a mass of items to suit all budgets.
Add an extra element of surprise with some fun quirky goodies such as rainbow juice, unicorn photo booth props, rainbow wands, unicorn magic potion or My Little Pony invites.
Fairy Tents and Indoor Teepees
Fairy Tents and Indoor Teepees are great places for the children to enjoy a mini adventure away from the watchful eye of the adults in charge. Inside their 'secret' den they can use their wildest imaginations to tell fantastic stories and play fun spy games.
Furnish the tent or den with sparkly fairy lights or lanterns and pad it out with cosy rugs and comfortable cushions. A food hamper filled with a feast of cupcakes, chopped fruit and snacks will go down a treat too. For inspiration take a look at the Pinterest pages – fairy tents and indoor teepees
Computer Gaming Parties
Video game, console and coding parties bring birthday celebrations well into the 21st century, and have become hugely popular party options among boys and girls.
The games can be put into an inclusive multiplayer mode enabling youngsters to challenge each other in a fun way. The choice of games is vast – choose from singing and dancing games, or football and Minecraft games, for example.
Ice-cream and Milkshake Parties
Ice-cream and milkshake parties offer a really appetising option, enabling guests to have fun concocting their own indulgent delicacy.
Many family friendly cafes and venues provide this type of party where half the fun is consuming the final creation. Needless to say, this a great option for those on a budget, as the food is part of the package.
Party Checklist
Make sure you don't forget anything important by using this party checklist. Click on the links below for more...
Here are some details about party providers and entertainers in Norfolk:
High Altitude Trampoline Park
Tel: 01603 567200
www.highaltitudepk.co.uk
There's a party for everyone at High Altitude from toddlers to teens - including exclusive bookings so you can have the whole trampoline court for you and your friends. Children will enjoy an hour of fun filled bouncing on the wall-to-wall trampolines and can compete in dodgeball games running throughout the session.
A firm favourite with all visitors is the huge air bag which is perfect for flips and tricks. Unlimited refreshments are available for party goers and the homemade pizzas are not to be missed! Bouncing can be hot work, so the air conditioning at the trampoline park is well received. Look out for the special discount voucher on the High Altitude advert in this magazine.
Labyrinth Norwich
Tel: 01603 666745
www.labyrinthnorwich.co.uk
Labyrinth Norwich is the city's newest laser tag party centre. Children can celebrate their birthday with a UV face paint party or standard package including an hour of laser tag games, a pizza buffet, ice lollies, party bags and unlimited drinks.
Every weekend morning there is under 12s laser tag and a family session where children and parents can play together for only £6pp. Labyrinth's free entry under 5s play cafe is open weekdays from 9:30am-2pm and weekend mornings until 12pm, featuring a seaside play frame with slide, a cosy movie shed showing children's films, and role play toys… plus a great range of paninis, pizza, cakes and children's options.
Go Ape
Tel: 01603 895500
www.goape.co.uk/days-out/south-east/thetford
If it's an out of the ordinary birthday party that you're looking for this year, then look no further! The Pixie Hut at Go Ape Thetford gives you and your little monkeys the freedom to run wild and make as much cake mess as you like (the squirrels will clean it up for you).
Nestled away in the beautiful Thetford Forest, offering acres of woodland trails and play equipment on the doorstep, it's guaranteed to keep the whole party group entertained for hours. Available to hire for either a morning or afternoon, it includes a treehouse, electricity and charcoal BBQ for just £50! Go Ape party bookings also benefit from 10% off hot or cold food from The Café at High Lodge when booked in advance via highlodge@churchillcatering.co.uk. Check out: Facebook @goapethetford.
Dotty Pottery
Tel: 07495 397165
www.dottypottery.co.uk
Dotty Pottery is a paint your own ceramics studio based at Hellesdon Barns in Norwich. It welcomes all ages and abilities, and its staff are happy to lend a hand when needed. With the end of the school year fast approaching, Dotty Pottery is also offering personalised teachers' leaving gifts or why not go in and paint your own?
Advanced booking is highly recommended during busy periods such as weekends and school holidays. Also, Dotty Pottery hosts parties for children aged 5 years+. Party packages include a two-hour party booking where each child can paint a ceramic of their choice from a variety of figurines, cups and bowls. Contact: dottypottery12@hotmail.co.uk
JR's Stomp.Dine.Strike
Tel: 01692 407793
Give your child's birthday party the wow factor at JR's. This exciting, lively and entertaining venue has something for every child. Situated just outside North Walsham there is a large indoor adventure area (Stomp in) plus an outdoor play area (Stomp out).
Alongside the play areas, JR's hosts a 90-seat American diner with an authentic American menu plus with 10 pin bowling lanes too there is definitely something for everyone. Summer 2019 sees the opening of JR's Maze with a large picnic area and a beach. Parties can take place in Stomp for adventure play or Strike to knock down some pins.
Alternatively, there's the ultimate 'Stomp.Strike.Dine' party. Add in freshly prepared party food and a party host and your child's party will be complete. Prices start from just £9.50 per head. Party slots are available 7 days a week for the under 12's, with a minimum number of 8 children.
Whitlingham Adventure
Tel: 01603 632307
www.whitlinghamadventure.org.uk
Whitlingham Adventure offers a fantastic range of active party packages for children aged 8 years+. Choose from a range of party adventures including: kayaking, canoeing, stand-up paddle boarding, raft building, sailing, archery, climbing, plus much more.
All parties are hosted by fully qualified, fun and enthusiastic staff, and should you want it, a function room is available to hire for a variety of events such as parties, celebrations and meetings. Let Whitlingham Adventure provide an unforgettable, fun-filled party for your child - to book, call the friendly bookings team.
Roarr! Dinosaur Adventure
Tel: 01603 876310
www.roarrdinosauradventure.co.uk
Treat yourself to a Roarr-some celebration with private hire of one of Roarr! Dinosaur Adventure's top attractions. Perfect for birthday parties, you can obtain exclusive use of Dippy's Splash Zone, Predator High Ropes, Dinomite or Stone Age Road Race – varied meal options are available too!
Plus, there is some exciting news for Eastertime as a brand new birthday party room will open in Dippy's – close to admissions. Make Roarr! Dinosaur Adventure your go-to party location, for fun for all the family.
Bure Valley Railway
Tel: 01263 733858
Book a birthday party package at the Bure Valley Railway and have a great choo-choo time. Choose either a charter diesel train for £120 or a steam train for £150, for a 30-minute trip from Aylsham to Brampton and return.
The price allows up to 40 people to travel, so why not invite the parents as well. For party food, the Whistlestop Café at Aylsham Station offers a selection of hot or cold food from as little as £4 per head (minimum 10 children). Take your own decorations and cake to complete this special day.
BeWILDerwood
Tel: 01692 633033
www.bewilderwood.co.uk
BeWILDerwood is a perfect place for exciting and memorable birthdays. Each party includes entry into BeWILDerwood, a birthday host to lead activities and guide you through the wild woods, exclusive use of one of the Boggle Banquet Halls, a traditional Boggle Banquet, a mudwort cupcake decorating activity, a Boggle Boat Ride, party bags, invites and a copy of Tom Blofeld's book A Boggle at BeWILDerwood for the birthday child. Parties cost £30 per child (minimum of 8 children with two free adults). Annual pass holders get 15% off birthday parties.
Mad Science Norfolk
Tel: 01603 406790
https://norfolk.madscience.org/
Mad Science Parties are mess and hassle free, interactive and superbly scientific fun that comes to you in a Norfolk venue of your choice! Suitable for ages 4 -12, children will be amazed and entertained by demonstrations, chemical reactions and hands-on activities.
During the two hour parties, children can try out amazing light bending glasses and make and take home their very own ooeey-gooey slime! Brave volunteers can have a hair-raising experience and even shoot lightning between their fingertips! To find out more contact email info@madsciencenorfolk.co.uk
Amazona Zoo
Tel: 01263 510741
www.amazonazoo.co.uk
Have an amazing and unique party at Amazona Zoo in Cromer where children can explore and learn about a varied and fascinating selection of animals native to South America.
Jungle Tumbles provides a large, well-equipped, indoor soft play area with slides, ropes, bridges, tunnels and interactive toys, as well as comfortable seating for parents, plus there's a 30ft yurt for lunch parties and party bags are supplied. There is also a large outdoor adventure play area with jumping pillows.
Parties include entrance to the zoo, a food box for lunch, a party bag containing Amazona Zoo goodies and exclusive use of the yurt for lunch. Parties are for children aged 4-10 years old.
Jump for Joy
Tel: 01603 721872
www.jumpforjoyplaycentre.co.uk
At a Jump for Joy party, children will be able to enjoy a fun filled 60 minutes in the wonderful play area and afterwards head to the Banqueting Hall for a 45-minute delicious party feast.
A delicious assortment of fresh sandwiches, sausages, cheese, crisps and healthy snacks are provided, followed by lollies and biscuits. Party bags are included and a gift for the birthday child. Just take a cake and candles.
Jump For Joy is not open to the public whilst parties are in progress. For adults, a drink and snack bar is available. Jump for Joy has a junior play frame for ages 4-10 years and toddler play frame for ages 1-4 years.
Party Checklist
Party Checklist: For parties at home
Decide on the timings and date of the party
Decide on how many children you can comfortably accommodate in your house
Send out the invitations
Sort out the entertainment if it's required. Book the entertainer, face painter, bouncy castle
Plan in the fun factor or create a theme
Sort out a music playing device
Select party games for the children to play
Source decorations, party tableware, balloons and party hats
Purchase the food and drink
Get the birthday cake
Party Checklist: For parties at a venue
Sort out party numbers
Create a small list of your child's favourite party venues in preferential order
Check the availability of the venues and if there are any special deals
Book a date and time with the venue. Pay the deposit
Get the name and telephone number of the main party organiser at the venue
Get the party invitations from the venue and send them out
Sort out the food with the venue and establish whether a birthday cake is supplied
Confirm numbers with the venue prior to the day
Party game ideas
Traditional party games always go down a treat. Here's a list of some of the most classic children's games:
Pass the Parcel
Musical Statues
Musical Bumps
Musical Chairs
Chinese Whispers
Blind Man's Donkey
Animal Charades
Treasure Hunt
And here are a few new party game ideas –
The Tray Game
Dead Ants
Doughnuts on a String
Marsh-mallow Bobbing
Piñata Games
Remember to stock up on prizes to award to the winning children.
Party Food Ideas
The birthday cake!
A choice of sandwiches with simple fillings such as plain ham, cheese and tuna. Mix some salad leaves into some of the sandwiches – if the children don't like it they can always take out the salad! Think about supplying some healthy options which are visually appealing and tasty.
Chopped up vegetables such as carrots, mangetout, peppers, cucumber with cream cheese or houmous for dips
Breadsticks
Cheese straws
Potato wedges
Pizza slices
Mini sausages and sausage rolls
Cheese and pineapple on sticks (or uncooked sticks of spaghetti)
Crisps and popcorn
Chopped fruit
Mini-sponge cakes
Jelly Boats made from scooped out and quartered oranges. (Halve an orange, scoop out the fruit, fill it with jelly. Once set, cut into quarters)
Ice-cream
Drinks: Either orange and blackcurrant squash, fruit water, fruit juice, milkshakes or plain water
Birthday Cake
Quick and Easy Chocolate Hedgehog Cake
Buy or bake a round sponge cake.
Divide the cake into three parts, the middle should be slightly bigger than the two sides, which should be the same size as each other.
Cut a V-shape at the end of the middle piece of cake (this is the hedgehog's nose). Discard the two smaller pieces. Or eat them.
Cover the middle piece of cake with thick chocolate icing.
Place the two remaining pieces of cake on top of the iced piece, round side up, for the Hedgehog's hump.
Liberally cover the entire sponge with thick chocolate icing.
Use chocolate buttons or flakes for the Hedgehog's spines.
The Hedgehog's eyes and nose can be made using Smarties or similar.
Don't forget the candles for the cake. They are often overlooked with all the other preparations.
Party bag ideas
Books or small colouring-in books
Glowsticks
Glitter Tattoos
Small packs of pencils
Bubbles
Balloons
Stickers
Small bag of sweets
Finger puppets
A paper glider
Decorate your own paper party bag
Cake Pops
A piece of birthday cake or a cup cake
Party politics - Invitation RSVP etiquette
For the party hosts
Hand out the invites in plenty of time, ideally about 3 weeks before the party date.
Include detailed information on the invitation such as the date, the start and finish times, the venue's full address and postcode, and the name, email address and number for them to RSVP.
Include a RSVP date to help you confirm final numbers prior to the day. You may wish to use words to the effect of: 'As the venue requires final numbers prior to the party we would appreciate confirmation of your child's attendance by (add RSVP date). If we do not hear from you by this date we will assume that your child is unable to attend'.
As a second measure, about a week beforehand, you may wish to politely chase up parents who have not as yet RSVP'd.
For the guests
RSVP as soon as you can, whether your child can make it or not.
If something happens on the day of the party, and your child can no longer attend, let your hosts know ASAP.
If you are running late, or need to leave early then let the hosts know in advance.
If you have not RSVP'd then don't just turn up uninvited.
Don't Forget Items!
Candles for the cake
Candle holders
Matches
Cake knife
You may wish to include party bags for unexpected additional guests or young siblings
Printable directions, including the postcode of the party venue
Five Pound Gift Ideas
Does it seem like your child is attending a different birthday party each week? Needing suggestions for generic party gifts that won't break the bank? If you are super-savvy you will have already stocked up on a number of general items in the Sales, if not, here are some ideas for a fiver:
Colouring-in sets and basic craft kits
Travel and Pocket games
Top Trumps
Books, jotters or notepads
Pamper packages filled with hair bands, bobbles and snazzy hairclips
Nail art kits
Superhero action figures
Vouchers