Staying Healthy with... Jamie Oliver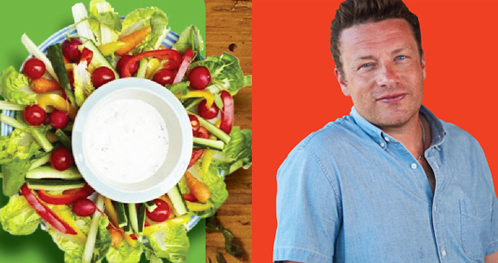 Primary Times teams up with Jamie Oliver to discuss the importance of fresh ingredients
A global phenomenon in food and campaigning, Jamie Oliver has inspired millions of people to cook fresh, delicious food from scratch. In an exclusive interview with Primary Times magazine, Jamie talks about reducing childhood obesity, educating parents about the benefits of using fresh ingredients, and improving everyone's health and happiness.
WHAT INSPIRED YOU TO BECOME A CHEF?
My parents are fantastic cooks, and growing up in a pub, as soon as I was old enough, my dad put me to work in the kitchen. I loved being around the chefs and the food, and I quickly got to help with the actual cooking. That's where it all began.
WHY DID YOU CHOOSE TO DEDICATE A LARGE PORTION OF YOUR CAREER TO IMPROVING CHILDREN'S EATING HABITS?
I think having kids of my own focused my attention on the next generation and what we can do to make sure they have happier, healthier lives. My current focus is transforming the environment that leads people to become obese. That means better food education, laws to stop companies promoting junk food to kids, limits on how much salt, fat and sugar can go into our food, and making a conscious effort to make it easier (and cheaper) for people to eat well every day. I'm a great believer that if you give children (or, anyone!) clear, useful information more often than not they'll make the right choice.
HOW DO YOU ENCOURAGE YOUR PRIMARY¬AGED CHILDREN TO TAKE AN INTEREST IN INGREDIENTS?
I can't recommend enough getting them involved in the kitchen nice and early, to spark an excitement about food. Even simple jobs like getting them to pick herb leaves or stir a batter will give them a great sense of accomplishment and will mean they start to understand, and be interested in food.
HOW DO YOU ENCOURAGE YOUR CHILDREN TO REACH FOR A HEALTHY SNACK?
Fresh fruit is really brilliant! Try making your own popcorn, for instance, flavoured with cinnamon or lemon zest. Dips are super-easy to make: I've got a really tasty minty yoghurt dip to serve with crunchy colourful veg!
WITH THE RETURN OF JAMIE AND JIMMY'S FRIDAY NIGHT FEAST, WHAT IS YOUR GO-TO HOMEMADE FRIDAY NIGHT FAMILY DINNER?
Just an amazing curry – rice, all the pickles, homemade flatbreads. All the different spices and flavours. Happy days.
YOU'RE CAMPAIGNING FOR A HEALTHY RATING SCHEME IN SCHOOLS, WHAT DOES A 5* SCHOOL LOOK LIKE TO YOU?
A five-star school will meet school dinner food standards, teach kids about the food they eat, and encourage them to be active too. On a Friday Night Feast episode later this year I go into a school to explore exactly why this stuff matters. Don't miss it!
Jamie's Minty Yoghurt Dip
Ingredients: 4 sprigs of fresh mint, 1 lemon, ¼ clove of garlic, 200g natural yoghurt and salt & pepper
Finely chop the mint leaves, and add them to a mixing bowl.
Grate the zest of half a lemon into the bowl, then cut the lemon in half before squeezing the juice into the bowl.
Peel and chop the garlic and add it to the mixture.
Add the yoghurt, salt and pepper and stir everything together! You're good to go.
About Jamie
Parent, chef and restaurateur, Jamie Oliver started cooking at his parent's pub at the age of eight. After leaving school, he began a career as a chef that took him to the River Café, where he was famously spotted by a television production company and the Naked Chef was born.