Place a big firm focus on fun this February and March, and before you know it spring will be on its way. Mix up some winter welly walks with some sandy strolls on the beach and conjure up a whole lot of fun at home with some simple science and craft activities.
Forest Schools are particularly popular at this time of year, partly due to the opportunities they provide to reacquaint children with nature. Plus, if we're lucky enough to receive a small smattering of snow, the chance for fun times escalates greatly.
Find out more about some of the great activities and events happening in the area right here…
Welly and Waterproofs Walks
As we creep out of winter, the daylight hours may be getting longer but it can be a struggle to entice ourselves outdoors when it is oh-so cosy indoors sometimes. Yet, there are so many big puddles to splash in, animal tracks to follow and mini adventures to be had.
So, pull on a brightly-coloured pair of wellington boots, grab a waterproof coat and get splishing and sploshing on a wonderful winter walk – you might like to try one of these local walks:
5 Best Beach Walks for Kids
Winter weather can be incredibly invigorating, and the senses will be stirred even more so at one of the many beaches in the area. Wrap up warm, steer clear of stormy conditions and enjoy the quiet stretches of beach at this time of year…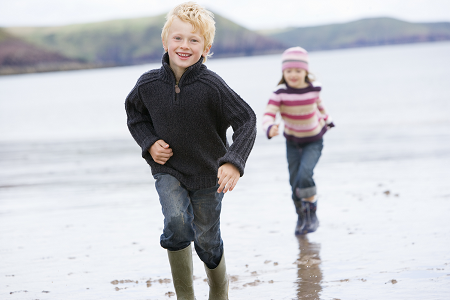 Studland – this four-mile stretch of golden sand is a wonderful place for the children to play games, fly kites and run around. Its shallow waters make it a great spot for paddling adventures. The heathland behind the beach is a haven for native wildlife and features all six British reptiles. Studland was the inspiration for Toytown in Enid Blyton's Noddy.
Southbourne – a firm favourite amongst families, it's hard to beat Southbourne beach whatever the weather. Away from the beach the Fisherman's Walk nature trail will feed curious minds with its woodland flowers and wildlife.
Lulworth Cove – the stunning white pebble beach at Lulworth Cove, is an especially good place to visit during the winter months, as the beach and roads can get incredibly busy during the summer. At low tide, several rockpools, teeming with sea creatures, are revealed.
Charmouth – children can go fossil hunting all year round at Charmouth. To escape from the winter weather head to the Charmouth Heritage Coast Centre with its fascinating fossil displays.
Weymouth - the big, wide golden stretches at Weymouth give children the freedom to run wild, splash in the sea, and carve patterns and pictures into the wet sand.
Simple Science at Home
Turn your home into a science lab with fun educational experiments for the children: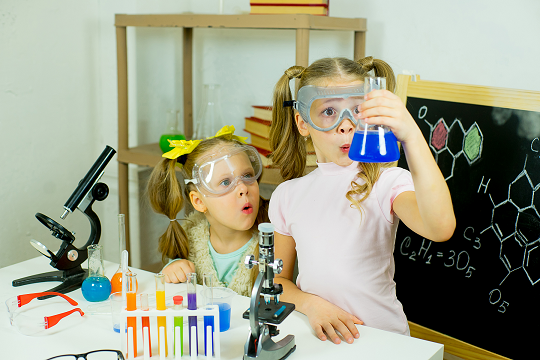 Make Rubber Band Cannons
Build a rubber band powered cannon from a crisp tin and a drinks bottle and use it to explore projectile motion and conservation of energy. Experiment with materials to build the best catapult possible, then use the slingshot to investigate how things fly through the air.
Giant Bubbles
Make a good mixture for blowing soap bubbles, learn why bubbles are always round and find out how to make giant bubbles with a couple of wooden spoons and some string.
For information and videos on how to conduct these experiments see www.rigb.org/families/experimental/
Titch the T-Rex roars into Adventure Wonderland
Titch the T-Rex and his dinosaur friends will be taking up 'roar'sidence at Adventure Wonderland, during February half term, from Tuesday 19 to Thursday 21 February.
Titch will be on his best behaviour wandering around the park so there'll be plenty of photo opportunities for the extra brave. When he's not on the prowl he'll be behind a fence so the more cautious can get a closer look. In addition, small children will be able to sit on Gretel, an animatronic Triceratops or pose with a dinosaur egg or leg bone.
Other attractions include the maze and play area, Caterpillar ride, Charlie Cool's Cars, the Jabberwocky double-helix slide and Cuddles Corner. Inside, visitors can enjoy the weather-beating giant indoor Aztec soft play centre, Wild Thing! Dance with the Stars and story time. See www.adventurewonderland.co.uk
Swish of the Curtain presents Shrek the Musical
Based on the Oscar-winning animation film, Shrek The Musical is the Tony Award-winning adventure-filled musical brought to you by the highly acclaimed, Swish of the Curtain.
Featuring memorable songs, a side splitting script and slick choreography, the beloved characters from the original film are brought to life in this fabulously fresh storybook journey. Shrek runs at the Bournemouth Pavilion Theatre from 20 to 23 February at 2pm and 7.30pm each day. Tickets are available at: www.shrekmusical.net
Opportunities Galore with Kids Camera Action
Kids Camera Action! has loads of exciting opportunities in 2019 to help encourage and develop young filmmakers. In February half term, there will be a two day stop-motion animation workshop with an expert animator, who will help youngsters make their animation dreams a reality.
The Saturday morning film school in Poole is underway and open to new crew members to help make a fantastic interactive live TV show in Spring term. In the Summer term children can sign up for 10 weeks to write, shoot and star in a short film to be shown at the exclusive cinema premiere.
Booking is also now open for the 5 Day Summer School from 29 July to 3 August. Visit www.kidscameraaction.co.uk/workshops for more details.
Lessons for all ages and abilities with Individuality Swimming
Individuality Swimming offers swimming lessons for everyone no matter the age or ability, from Aqua Natal and baby swimming to adult lessons and all ages in between.
Individuality Swimming offer group, private 1:1 and 2:1 lessons in the daytime, after-school and at weekends across Bournemouth, Poole, Hamworthy, Wimborne, Ferndown, Southbourne and Sandford with friendly, qualified instructors.
To find out more visit www.individualityswimmingandfitness.co.uk, find them on Facebook or call them on 07900 058395.
Join The Ultimate Pop Princess Party on its First Ever UK Tour
The ultimate pop princess party Once Upon A Princess is heading out on the road for its first ever UK tour and will be visiting the Regent Centre in Christchurch on Thursday 21 February.
This smash-hit glittering production features all your favourite fairytale princesses plus a soundtrack of top pop hits and movie musical classics that will have the whole audience singing and dancing.
Starring Ally Cox in the role of Fairy Muddled, this enchanting production features songs from Olly Murs, Meghan Trainor, Dolly Parton, Little Mix, Jess Glynne and more. Tickets are on sale now priced at £11. Call 01202 499199 or go online at www.regentcentre.co.uk
February Half Term Fun at The Tank Museum
This February Half Term, from 16 to 24 February, explore Dorset's large indoor attraction and experience the biggest day out in history at The Tank Museum!
With over 300 vehicles in 10 powerful exhibitions, there's tonnes to see and do. Have a go at constructing a quarter size Second World War tank in a free Half Term activity.
Kids can also enjoy dressing up, trails and tours, and letting off steam in the soft play. For details see www.tankmuseum.org/home
An Interactive Circus Theatre Adventure at PDSW
Using acrobatics, live music and mountains of toys, join Pavilion Dance South West in an interactive circus theatre adventure to explore what happens when people don't fit into boxes.
The performance Plink and Boo by Can't Sit Still, on Thursday 18 April, combines physical theatre, circus, and original music. Can't Sit Still tell stories, start conversations and try to change the world. For bookings and information call 01202 203630 or see www.pdsw.org.uk
Vintage Fun at Wimborne Model Town
For 2019, there's new crazy golf to play at Wimborne Model Town for a small extra charge. Wendy Street is the enclosed play area for younger visitors and the 1950s school and shop area takes visitors back more than sixty years.
The push button 00 gauge railway layout has a new underground line and the illuminated dolls' houses all have a different story to tell. See www.wimborne-modeltown.com for more details.
Crealy's Family Feb Fest
Join Crealy for a Febtastic February half term, from 18 to 22 February, as they welcome your family favourites live on stage every day,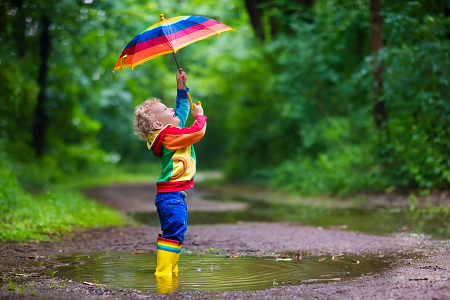 with tickets starting from just £10 per person (Crealy members have free access to this event). The three acts will perform in one amazing show, three times throughout the day, meaning you can enjoy the whole theme park and the Feb Fest show all in one visit.
The Family Feb Fest Febtacular line-up includes The Sooty Show, a fun filled show, featuring Sooty, Sweep and Sue, with lots of magic and laughs guaranteed. Then, the lively and bright new tribute act, Little Chix will be performing high energy dance routines and all your favourite songs including 'Black Magic' and 'Power'.
Next up, Krazy Kev and Dinky Dino will bring all sorts of fun, magic, interactive activities, balloon animal making and music to the Crealy Arena. Don't forget, you can use your 7 days for the price 1 offer during the February half term too, meaning you can do it all over again for free. For more details see www.crealy.co.uk