Spring activities in Dorset
Spring is such a welcoming time of year - it warmly signals a time of fresh beginnings, more pleasant weather and a refreshing increase in the number of daylight hours, lifting spirits and restoring energy levels.
Here are some ideas to put a spring in your step…
Visit Dog-Friendly Attractions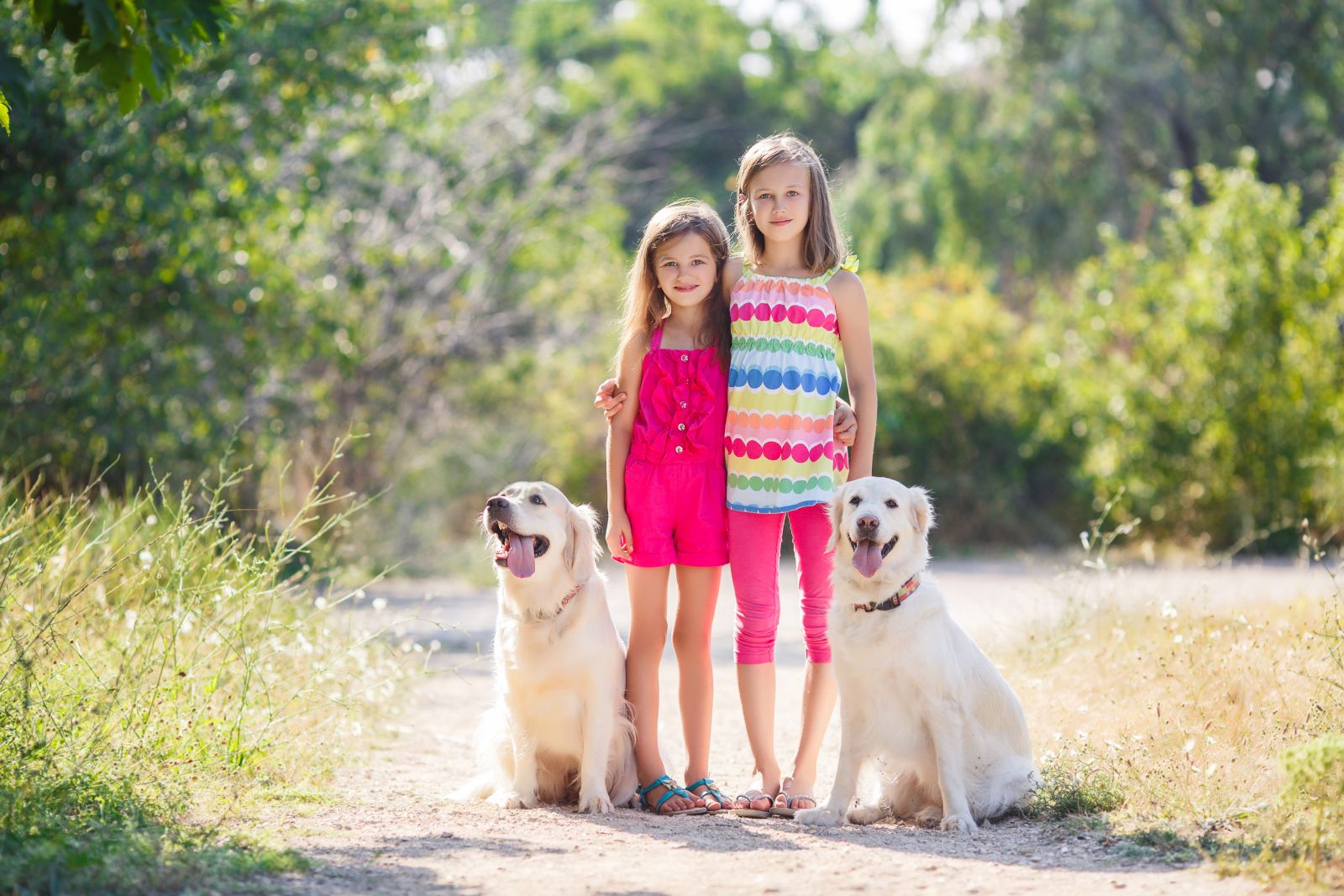 For many families, whether an attraction is dog-friendly or not, will be the deciding factor of a destination for a day trip. Fortunately, many of our local attractions welcome dogs - in fact, you may be surprised at how many places are happy to accommodate your pet. Some venues welcome well-behaved dogs on leads, supply dog bins and water bowls on café terraces. Some even have designated doggy tables in their cafés and showers to wash down the dirty fur of any of our four-legged friends who have had, perhaps, too much of a good time rolling around in the mud.
Doggy-Do Code
Do prevent your dog from chasing wildlife and farm animals
Do keep your dog in sight
Do bag dog poo and bin it in the special bins
Decorate Flower Pots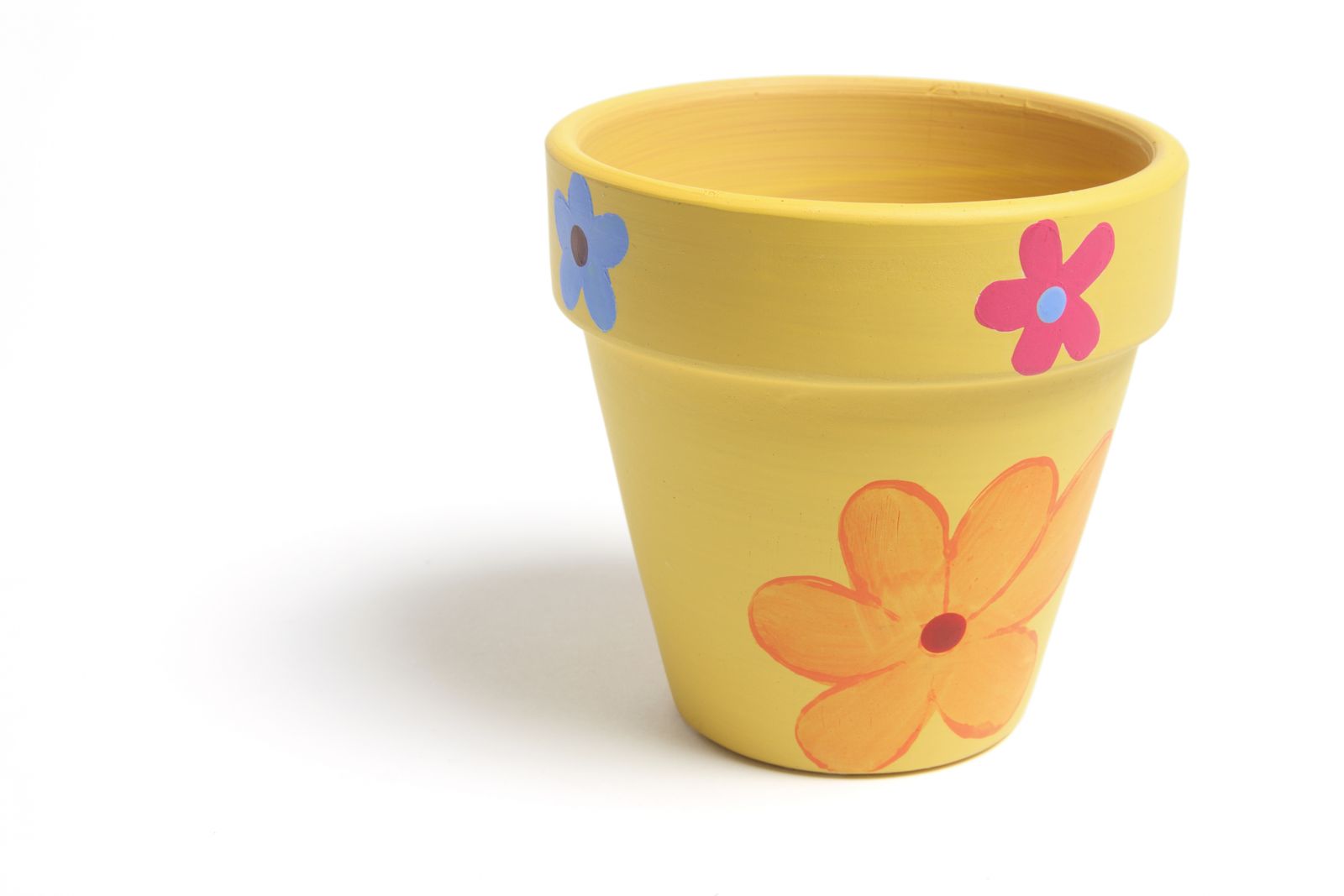 Add a welcome splash of colour to the garden by encouraging the children to paint or embellish a flower pot. Plain terracotta or ceramic pots are usually cheap and can be bought at many of the garden centres or home stores.
Go on a Spring Flower Walk and Trail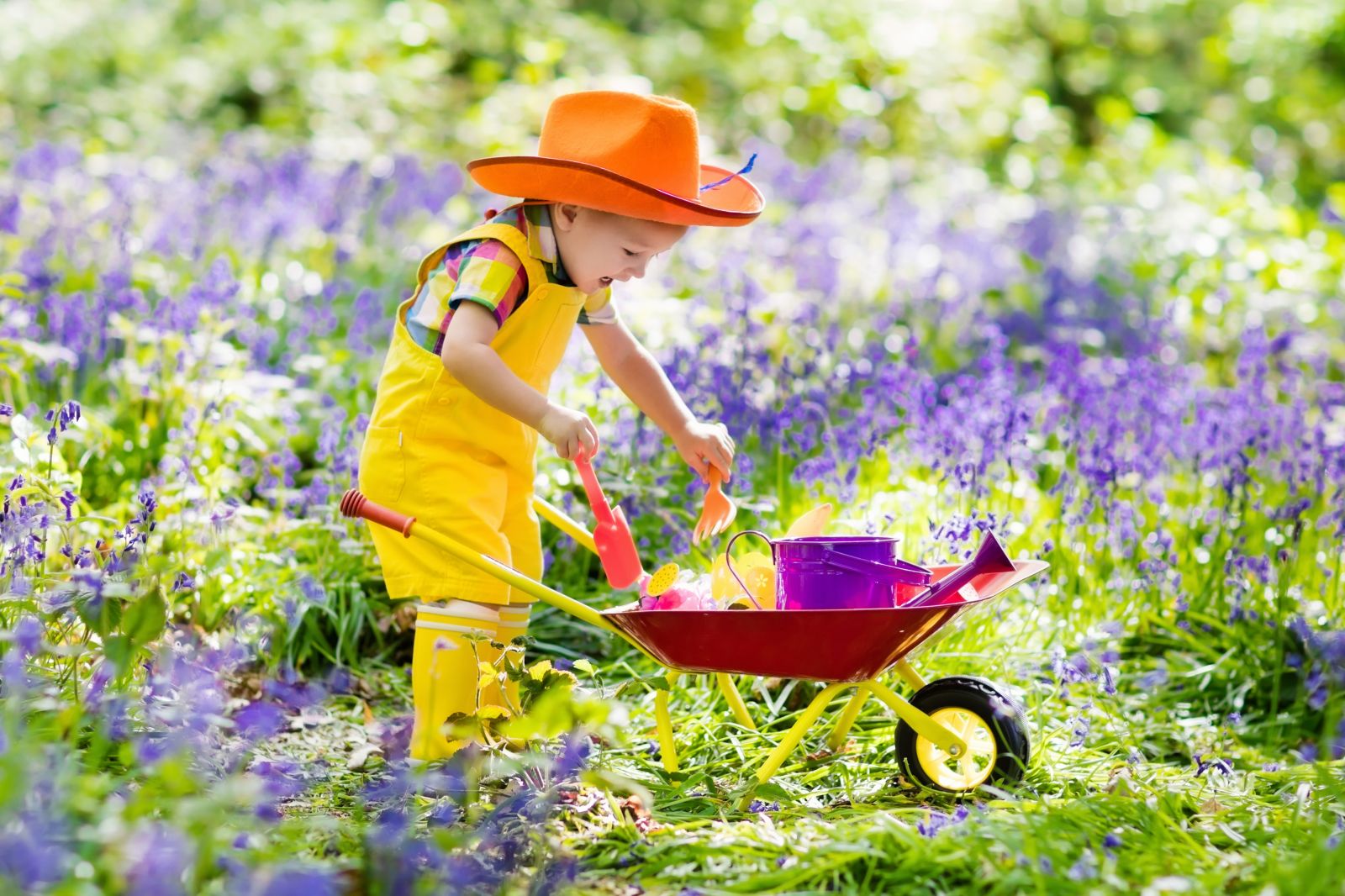 Spring flowers really do brighten up the landscape and can be spotted on many trails and walks throughout the county. Children are able to learn about how the appearance of certain flowers signify the changing of a season.
Snowdrops, crocuses, daffodils and bluebells flourish within a short space of each other but their appearance always follows the same sequence.
There are beautiful bluebell walks in Kingston Lacy in Wimborne Minster; Bulbarrow Hill near Woolland; Thorncombe Woods near Higher Bockampton; Duncliffe Wood near Shaftesbury; and Pamphill Bluebell Woods near Wimborne – where often the aroma is equally as pleasing as the sight of the flowers.
Make a Welly Planter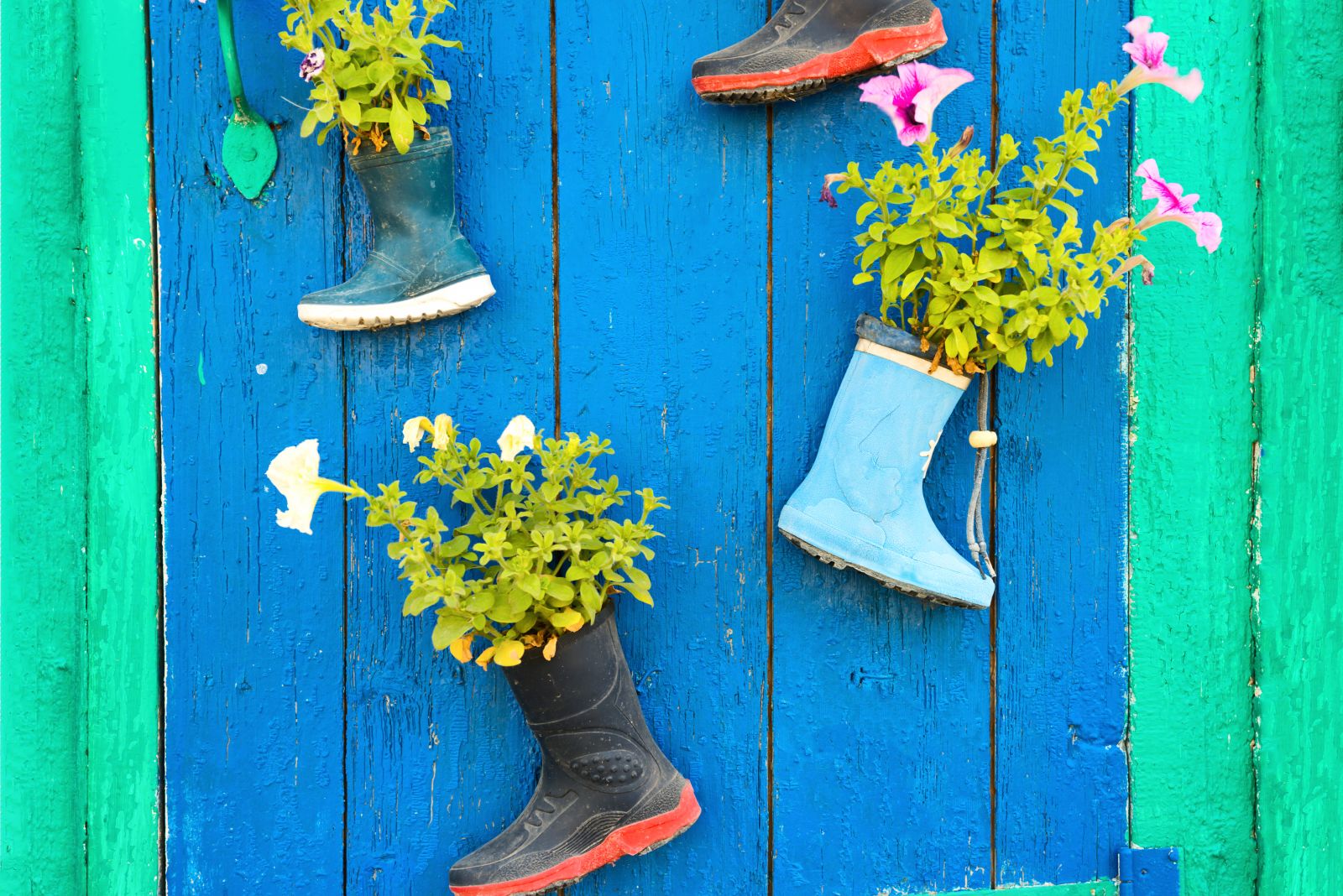 Children tend to outgrow their wellies at a rapid pace of knots, so rather than sending the old boots to recycling heaven, how about re-using them in a way to add a funky, quirky feature for your garden? Start of by drilling some holes into the sole of the boots to enable the water to flow freely through the boot. Next, add some pebbles to the bottom of the boot, this will add some weight and keep it steady. Then pack in some compost, then plant your flower or seeds. Finish by sprinkling the plant or seeds with some water and placing the welly planter on full display for all to admire.
See and Cuddle Some Newborns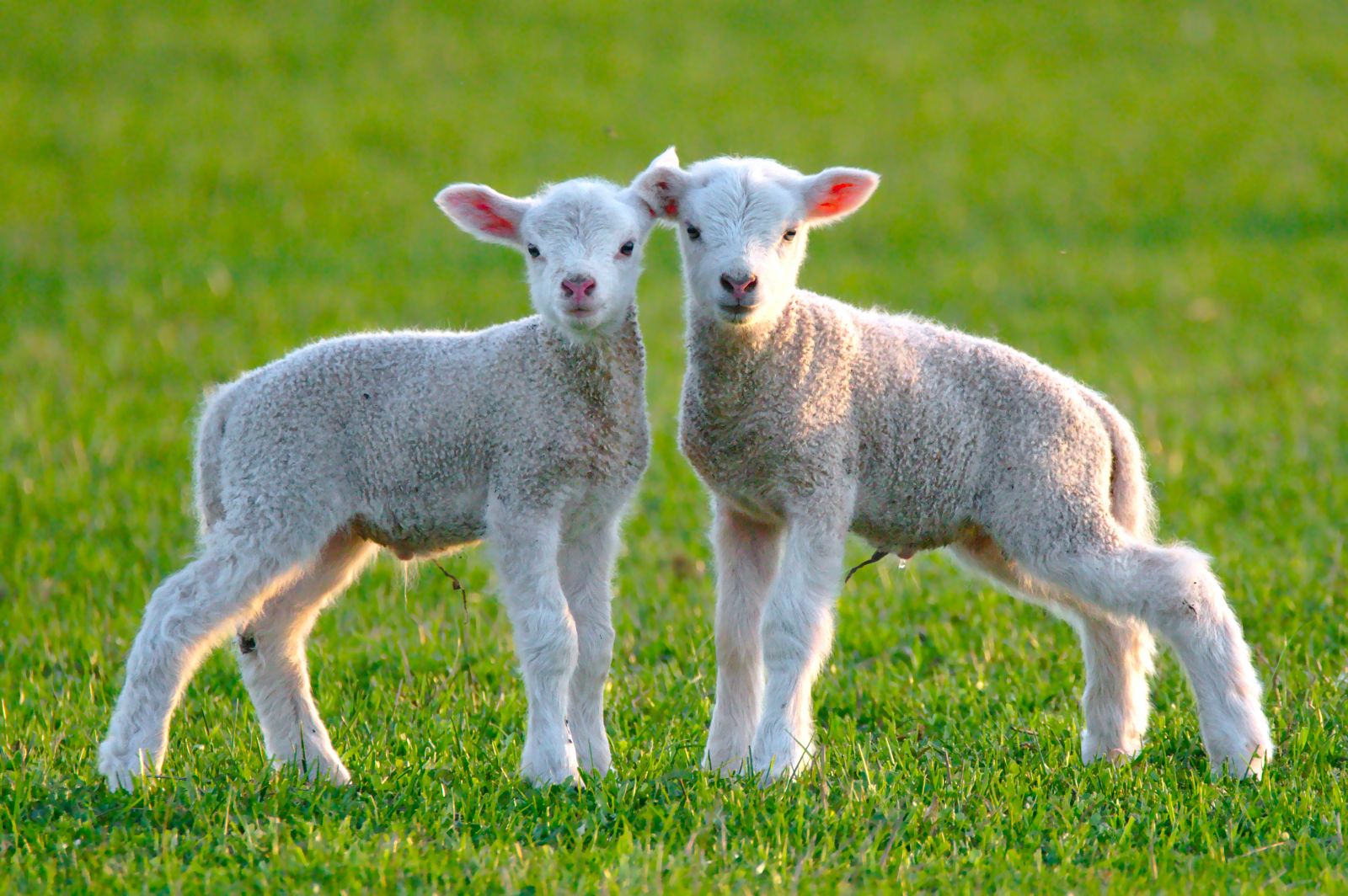 There's something about new-born animals that children seem to absolutely love.
At this time of year, the fields are filled with newborn lambs bleating loudly and the Easter chicks are simply lovely in their yellow fluffy splendour.
The great news is that many of the farm parks and attractions have plenty of cute baby animals to see, feed and cuddle.
Help Out at a Beach Clean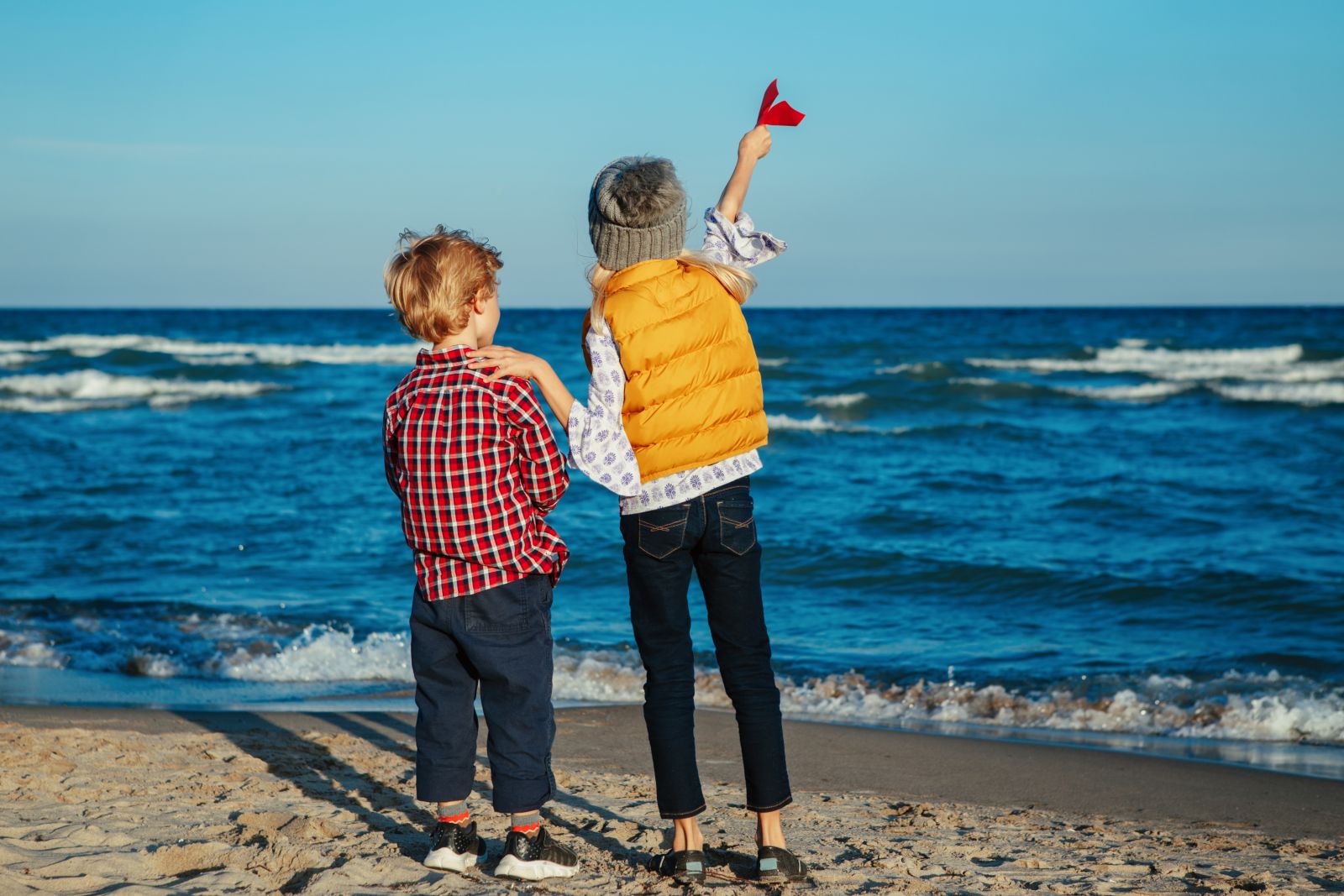 The local beaches are wonderful places to be during the spring months. The summer crowds haven't yet arrived, the sands have been freshly cleaned and yes, most of the time the weather is reasonably warm. You can contribute to this welcoming environment by helping out at one of the many beach cleans across the county.
Then, enjoy learning more about the sea-life you have helped to save at one of the fun rockpool rambles. You may wish to get involved at the Great Dorset Beach Clean on 27 and 28 April, covering beaches from Lyme Regis along the coast to Friars Cliff in Christchurch – see www.litterfreecoastandsea.co.uk/litter-free-coast-and-sea-week/. Also, Surfers Against Sewage is hosting a Big Spring Beach Clean from 6 to 14 April 2019 – if you want to get involved see www.sas.org.uk/our-work/beach-cleans/ or email beachcleans@sas.org.uk


Take a look at what's happening in the region this spring…
Dogs Welcome at The Blue Pool
A truly delightful family attraction since 1935, the magical Blue Pool is surrounded by tranquil woods and heathland with many sandy paths. Visiting families can take an imaginative stroll and enjoy becoming a 'Searcher and Finder' looking for squirrels, fairy doors and much more. Whilst there, visit the unique gift shop before entering the fascinating world of the Wareham Bears.
Stop by at the Teahouse for a warm mug of coffee, light lunch and delicious Cream Tea made with tasty homemade scones. Find The Blue Pool at Furzebrook near Wareham, BH20 5AR. Feel free to take the family dog, as four-legged friends on leads are very welcome. For more details call 01929 551408 or visit www.bluepooltearooms.co.uk
BEAF– Bournemouth's Fringe Festival Returns in May
From Saturday 4 to Sunday 12 May, Bournemouth's largest independent arts and cultural festival, BEAF (Bournemouth Emerging Arts Fringe), returns to celebrate and showcase the work of Bournemouth's vibrant, home-grown creative community.
Running for the third time since 2015, BEAF will feature exhibitions, theatre productions, concerts, dance and film screenings at various locations, with a particular focus on the area in and around Boscombe.
The BEAF Street Festival will take place on Bank Holiday Monday, 6 May, and will be bringing arts onto the precinct in Boscombe, including the opening of the iconic police box at the Boscombe Centre for Contemporary Arts. Music and performances, exhibitions, workshops and a massive floor mural will be just some of the activities taking place in Boscombe that day. Further attractions will be life-sized 2D characters populating Boscombe High Street. The festival will draw to a close over the second weekend with events at Churchill Gardens. For the full programme, bookings and further details, pick up a programme in venues across Bournemouth or go online for full listings at www.b-e-a-f.co.uk
Fun All the Way at Adventure Wonderland
Whatever the time of year, there's loads of fun to be had at Adventure Wonderland. During term time pre-schoolers can enjoy the giant indoor play centre, Wild Thing! which is open daily. Jungle packed with Aztec adventure, Wild Thing! has a whole host of activities to keep the kids busy.
They can make their way under Piranha Falls, down Black Speed Slide and around the Gator Pit into Bongo Hut. Then there's Quake Tube, Python Drop, Tree Top Camps, the Cargo Climbs, Cliff Hangers, Web Crawls, the Spider Maze and Roller Ball Alley. Plus, the ultimate test -Montyzoomer's Ball Firing Thunderdome. If that isn't enough, children can challenge themselves or their friends on the brand new fun reaction game Jungle Zap Zone!
During the weekends in the run up to the Easter holidays, visitors will have the chance to enjoy Wild Thing and a great range of outside rides including Turbo Tea Cups, Charlie Cool's Car and the Jabberwocky slide. For more, see www.adventurewonderland.co.uk
Make it Hot, Hot, Hot at the Cheese and Chilli Festival
The only dedicated UK Cheese and Chilli Festival will be returning to Christchurch this year on 8 and 9 June. This will be a fantastic family friendly, fun-filled event spiced up with all things cheese and chilli.
The two days will be packed with a whole host of tasty treats, amazing entertainment, live music, cooking demonstrations and fiery food competitions. Children under 16 go free and there will be free parking too.
For more details go to www.cheeseandchillifestival.com
Classic Adventures of Mole, Ratty, Badger and Toad at Russell-Cotes
This spring join in the Wind in the Willows themed fun at the Russell-Cotes Art Gallery and Museum in Bournemouth. Activities include craft days, garden games, storytelling, a garden treasure hunt and competitions all based on the classic adventures of Mole, Ratty, Badger and Toad.
The museum is open from Tuesdays to Sundays, although it will be closed on Good Friday but open on Easter Saturday, Sunday and Monday. Visit www.russellcotes.com/easter or call 01202 451858 for further information. Find Russell-Cotes Art Gallery and Museum at East Cliff Promenade, Bournemouth, BH1 3AA.
Get Your Skates on Over to Roller City South
Roller City South is a long running family-run roller disco that takes place at 2Riversmeet Leisure Complex, from 6.30pm to 8.30pm, every Saturday. This is a great way for the family to get fit together and is suitable for all ages and abilities.
The Roller Disco includes great music and games and skate hire is free if booked in advance via Facebook. For details see www.rollercitysouth.co.uk or call 07557 339773
Kitchen Club at Playgolf Bournemouth
The Kitchen Club is a family friendly restaurant at Playgolf Bournemouth, Riverside Avenue, Christchurch.
Their freshly-made pizzas cooked in the wood burning pizza oven are the talk of the town and with their fabulous kids' menu which starts at £5.50, the food is fantastic value too.
There's no need to book - just turn up and for some well-deserved family down time. See www.playgolfbournemouth.com
Play to the Max at Lemur Landings
Perfect for parties and whole host of fun – a visit to Lemur Landings is never dull. Run, jump, climb and play to the max- simply let the kid's imagination run wild.
Combo tickets with Splashdown are great value and will give you a day out that the weather just can't spoil.
For all the latest from Primary Times Readers' Star Awards favourite, see www.lemurlandings.co.uk.
Be Transported to Galaxy Far, Far Away in Boscombe
On 4 May, between 11am and 3pm, open the blast doors and head to Boscombe to take part in Bournemouth's inaugural Star Wars and Sc-fi Fan Appreciation day at the Sovereign Centre in Boscombe.
Fans of all types are invited to dress up and join Dorset Troopers in celebrating all things Star Wars and Sci-Fi, take part in a costume contest to win a prize and to enjoy many photo opportunities.
Call 01202 291 200 or see www.coastalbid.co.uk
Days Out on South Western Railway
This spring take the family on a great day out with South Western Railway. With savings of up to 50% on selected routes when you book in advance, the ice creams are on you. Why not discover new heights on the Clifton Suspension Bridge in Bristol or visit the guards at the Tower of London?
With fast and frequent trains between London and the many attractions of Portsmouth, Winchester, Bristol, Bournemouth, Weymouth and everything in between, you will always find something brilliant for the family to do.
For more ideas and to book your tickets, visit www.southwesternrailway.com.
Hooray – it's May!
May Day celebrations begin a month of festivals, shows and fun-filled occasions. It's a time of year when communities congregate in city halls, village greens and town squares to mark the longer days and revel in the best of the season.
Although May Day falls on the first day of the month, the traditional celebrations and festivities happen at any point during the first weekend of May.
This timely celebratory occasion was chosen as it marked the date when most of the 'seed sowing' had been completed, making it a convenient time to give farm labourers a day off from their duties.
Interestingly, taking off the first Monday of the month as a Bank Holiday only started back in 1978. As the May Day festivities, had been enjoyed by many communities throughout the centuries, the Labour Government at the time decided to mark the occasion, by granting the first Monday in May as a Bank Holiday, giving families a day off from work and school.
Over the May Day Bank Holiday weekend, many towns and villages celebrate with communal fetes, traditional festivals and shows.
Often, the celebrations are quirky affairs featuring Morris dancing, Maypole dancing and novel processions displaying unique characters to the town where they are taking place. Streets and parks are often dressed in bright flags, flowers and greenery, and live music from town bands, teams of drummers or accordion players, all contribute to a lively, convivial atmosphere.
A key part of the May Day celebrations is the maypole, which is placed at the hub of the action, bringing the community together.
Local primary school children often participate in the Maypole dancing, which involves a fun dance using coloured ribbons that are eventually woven into a pretty pattern around the pole.
Pairs of boys and girls, positioned at the base of the pole, and holding the end of a ribbon, weave in and around each other, with the boys going one way and girls going the other.
Aside from May Day celebrations there are plenty of other activities for families to enjoy throughout the month