We're now within the realms of festival season and a mighty fine list of family friendly events will be happening over the next few months.
In Dorset, festival season is hugely diverse. Sometimes practical and informative and sometimes quirky and eccentric – you'll find
everything here, from an eclectic mix of traditional village fetes, coastal sand-castle building or kite flying fairs, food and drink festivals, large and small agricultural shows, music festivals – the list is endless and there's no excuse to say there's nothing happening in the area this summer.
These fun-filled events foster a sense of community spirit and a welcome feeling of inclusiveness. Besides it's a great excuse to get to know your neighbours a little bit better.
Read on for more information about local festivals in the area, and remember to look at the What's On listings to find even more events…
Swanage Carnival and Regatta: Saturday 29 July to 5 August
If you are looking for family fun and excitement this summer, look no further than Swanage Carnival and Regatta.
It's one of the most popular carnivals on the South Coast, featuring more than 100 thrilling events, including the famous carnival procession, wacky races, amazing firework displays and Carnival's got Talent.
This year visitors will be in for an extra special treat as the world famous Red Arrows will be taking to the skies thrilling crowds with their breath-taking display. The great news about Swanage carnival is that it is affordable and in some cases the entertainment is free, so donations in the buckets are always much appreciated.
Swanage Carnival is 100% self-funded and any extra funds raised are donated to selected charities. For details visit www.swanagecarnival.com
Dorset County Show: 2 to 3 September
Taking place at the Cokers Frome Showground on the outskirts of Dorchester, the Dorset County Show is back hosting fun for all the family. Highlights include heavy horses, show jumping, falconry displays, a funfair and a huge variety of over 450 trade stands. Children under 16 go free and early bird tickets, until 31 July, cost £12. Following this, the price will be £14. Tickets will be on sale at the show for £17. Visit www.dorsetcountyshow.co.uk to find out more.
Toby's Garden and Harvest Festival at Forde Abbey: 16 and 17 September
Join the late-summer fun at Toby's Garden and Harvest Festival at Forde Abbey on 16 and 17 September where you can discover Forde's amazing trees and get lost in the meadow maze and willow labyrinth. Learn how to weave willow structures, make botanical soap, grow edible flowers or brew natural dyes from plants in your garden. Plus, we have apple-pressing and juicing. Visit www.tobygardenfest.co.uk/forde-abbey
The Big Wild Sleepout at RSPB Arne: Saturday 5 August
Due to unprecedented demand, RSPB Arne will be hosting an extra Big Wild Sleepout event on Saturday 5th August.
This gives family an opportunity to spend the night underneath the stars at the fantastic RSPB Arne reserve in Dorset.
The overnight event runs from 5pm to 10am and includes a guided walk and a meal cooked over the fire. For more information visit www.rspb.org.uk/arne
Milton Abbas 18th Century Street Fair: Saturday 29 July
Take a step back in time on Saturday 29 July, at the Milton Abbas 18th Century Street Fair, where villagers, stall holders and visitors will be wearing period costumes. Featuring over 130 stalls and a continual programme of entertainment, there will be plenty for the children to enjoy including a fun fair, Punch and Judy, and Jamie Jigsaw's Magic and Juggling Show. Whilst at the circus workshop, children can try juggling, diablo, plate spinning and many more circus skills. Find further information at www.miltonabbasstreetfair.co.uk
Bridport Folk Festival: 11 to 13 August
The streets of Bridport will come alive with song and dance for a fun packed weekend this August. There will be three stages featuring local bands and musicians, a concert in the Town Hall, Morris dancing, workshops and, weather permitting, the organisers intend to hold a full street ceilidh on the Sunday afternoon. Visit www.bridportfolkfestival.co.uk
Camp Bestival's Tenth Anniversary Celebrations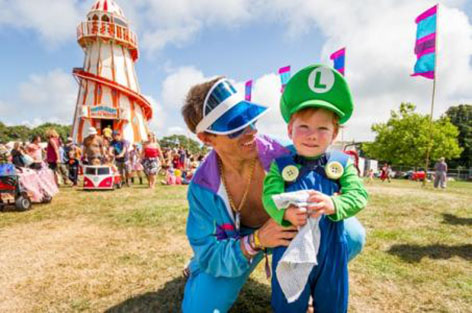 Creative possibilities are everywhere at this year's Camp Bestival, running from 27 to 30 July.
Enjoy the tenth anniversary celebrations at Lulworth Castle, with music from Mark Ronson, Madness, Holly Johnson, All Saints and more.
Don't miss out on family fun and theatre from School of Rock – the musical, Mr Tumble, Dick and Dom, Mister Maker, The Bear and The Piano live, and many more. Be amazed by jaw-dropping spectacles galore including the return of the World's Biggest Bouncy Castle and bugtastic acrobatics. For more information on Camp Bestival, visit – www.campbestival.net