May Half Term and Spring Activities in Dorset

Fill those longer, warmer days with engaging hobbies, fun activities, healthy eating, holiday planning and exciting half-term events…
It's Bike Week – 9 to 17 June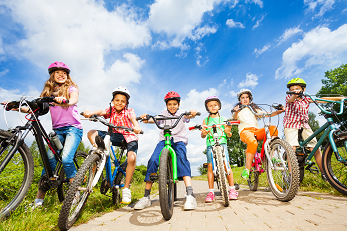 It's National Bike Week - www.bikeweek.org.uk – from 9 to 17 June, when the nation will get mobile on two wheels. Do keep an eye on the website for details about local events.
If you're wanting to pedal along a nearby route that is suitable for all the family, then you may wish to consider a section of: the Moors Valley Country Park and Forest; the Northport Greenway and Sika Cycle Trail; the Bournemouth Pier to Pier route from Boscombe to Bournemouth.
Alternatively, choose from one of the many other routes found at www.sustrans.org.uk/bike-routes-map
To find a Bike Week event near you take a look at www.bikeweek.org.uk
Top Tips for a Successful Family Bike Ride
To locate a cycle route or to join the National Cycle Network visit the Sustrans website - www.sustrans.org.uk - which has a vast number of maps of cycle tracks all across the UK.
The National Cycle Network has over 14,000 miles of routes throughout the UK and passes through the centre of every major town in the UK. 75% of people live within a couple of miles of it.
A third of the routes are traffic-free, with paths along disused railways, canal towpaths and forest tracks, whilst the remainder follows quiet roads and traffic-calmed streets.
Tips from Sustrans - Planning a family bike ride
Don't go too far: it is better that everyone enjoys themselves on a short ride and comes home eager to plan the next trip.
Check the route beforehand: make sure you don't get lost and plan some options for short cuts.
Avoid very hilly routes, busy roads and difficult junctions.
Let the slowest cyclist set the pace.
Make it interesting: children can get bored so plan plenty of refreshment breaks. Little and often is better than one long break half-way. For younger kids, have a few games, like I-spy, up your sleeve to play along the way.

Be part of the Great British Farm Day on Open Farm Sunday: Sunday 10 June
Hundreds of farms all over the country will open their gates for LEAF Open Farm Sunday on 10 June. As the farming industry's annual open day, it offers a fantastic chance for people to discover real farming at first hand and see for themselves how their food is produced. Plus, it's a great way for farmers to shine a light on what they deliver and why supporting British farming matters. To find out more see https://farmsunday.org
Get water confident, ready for the summer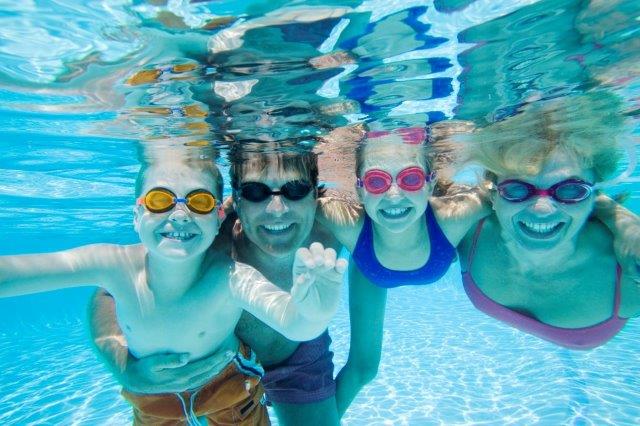 When a child can swim confidently, he or she has open access to enjoy a wide variety of other water sports such as surfing, sailing, canoeing and diving. Playing in and around the rivers and the oceans suddenly becomes less dangerous if a child can swim and has a strong grasp of water safety.
Drowning Prevention Week, from 15 to 25 June 2018, aims to reinforce basic water awareness and on the website - www.rlss.org.uk/water-safety/drowning-prevention-week - there are details on how children, aged 8 to 12 years, can sign up to become Rookie Lifeguards .
Prior to that, it's Learn to Swim Week, from 21 to 27 May 2018 - www.sta.co.uk/events/learn-to-swim-week
If you're looking to find a local swimming pool or ASA approved swimming lessons enter your location details at www.swimming.org/poolfinder
This spring make a big splash at: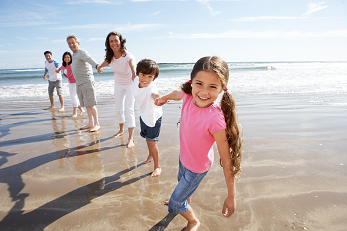 Splashdown; Osprey Leisure; Brenscombe Outdoor Centre; Shore Sports; Bournemouth Coastal Activity Park; Shaftesbury Oasis Pool.
Or
Make a big splash in the sea – take your pick of beaches!

Pitch up for National Camping and Caravanning Week – 28 May to 3 June
Fancy something more comfortable than pitching up in a den?
Well, it's National Camping and Caravanning Week from 28 May to 3 June 2018. So, if the weather's looking good, head to your local campsite – find one at www.campingandcaravanningclub.co.uk
It's Picnic Week – 15 to 24 June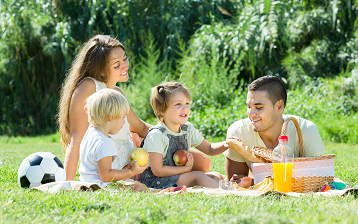 As part of the season's mini adventures pack up a tasty picnic for the kids. It's National Picnic Week from 15 to 24 June 2018 – for ideas on how to fill those hampers look at www.nationalpicnicweek.co.uk or grab some nutritious ideas from www.greatgrubclub.com.
Spruce up those summer packed lunches and picnics with some tasty ideas, found here Healthy Lunchboxes - NHS: www.nhs.uk/change4life/recipes/healthier-lunchboxes
Salad and summer recipes at World Cancer Research Fund: www.wcrf-uk.org/uk/recipes/recipes-home
Picnic recipes at BBC Good Food: www.bbcgoodfood.com/recipes/collection/picnic
Get together for The Big Lunch – 3 June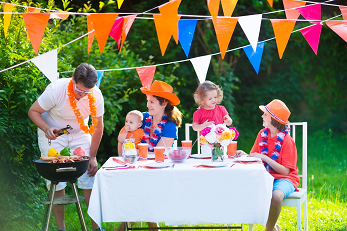 Designed to draw communities together by dining in a communal way, The Big Lunch, an initiative started by the Eden Project, will be taking place on 3 June this year.
Why not use this as a great opportunity to form closer bonds with your neighbours? To get started see www.edenprojectcommunities.com/thebiglunch
Children's Art Week – 9 to 17 June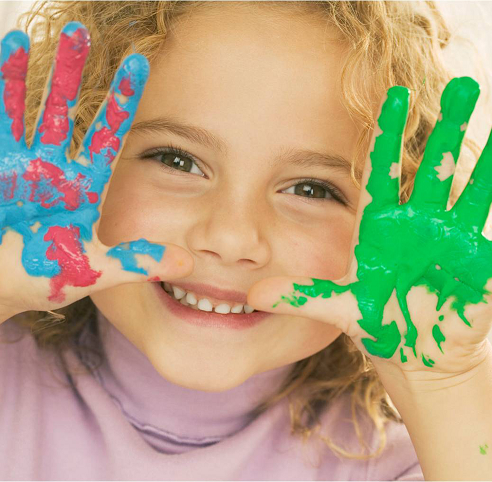 Children's Art Week, the nationwide celebration of creativity for children and their families, will take place from Saturday 9 to Sunday 17 June 2018.
Last year, the occasion was well received when 146 events took place, and 18,825 participants enjoyed creative activities at 116 venues, including galleries, museums, primary and secondary schools.
Find out what's happening near you at http://engage.org/childrens-art-week.aspx
It's Child Safety Week - 4 to 10 June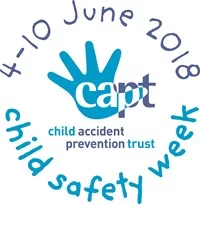 The aim of Child Safety Week is to raise awareness, forge partnerships and put child accident prevention on the local agenda. This year Child Safety Week will run from Monday 4 to Sunday 10 June 2018 with the theme 'Safe Children: Together we've got This' .
Organisers are asking families, communities and professionals to show they care by playing their part in keeping children safe and sharing their experience and knowledge – not just about the horrors of accidents, but also the really practical, simple things they do to prevent them.
Visit www.childsafetyweek.org.uk
Children's Hospice Week – 22 to 28 May
Children's Hospice Week is the UK's only awareness and fundraising week for children with life-shortening conditions and the palliative care services that support them.
The theme of this year's campaign is 'Let's Turn up the Volume' which is designed to raise awareness of what life is really like for families caring for seriously ill children.
To learn more or to help raise funds visit www.togetherforshortlives.org.uk/childrenshospiceweek
After School Summer Checklist:
Embrace the longer days with enriching moments that all the family will be able to enjoy together. Here are some ideas on how to spend that time – (many are dependent on the age of your children):
Watch the sunset from a viewpoint
Picnic outside in the park
Take an early evening bike ride – take a little snack
Paint a picture of the early evening skies
Go scooting (then catch the bus home)
Go on a trail – a town trail, a nature trail
Go foraging – for raspberries and blackberries
Paint and decorate plain ceramic pots that can be used in the garden
Look up at the night sky – track satellites, look for the international space station
Go paddling – canoeing, an organised canoeing trip, have fun on a pedalo
Use some coloured chalk to draw shapes and pictures on your patio (if you have one!)
Play games – French cricket, football in the park, Frisbee on the beach, Boules in the park, rounders (get another family to come along), snail races
Go swimming - in the sea or a tide pool
Go fishing
Watch some outdoor theatre, outdoor music, evening fireworks
Find out what children's activities are taking place in Dorset this May half term, and beyond, here...
Dorset Wildlife Trust 30 days Wild Challenge
Dorset Wildlife Trust is inviting families to take part in the 30 Days Wild Challenge, asking everyone to do something wild every day for the 30 days in June. Activities such as going for a walk in the woods, admiring a flower, making a bug hotel, or feeding the birds in your garden all count as random acts of wildness. Sign up for your free pack, including a wall planner, poster, stickers, and inspiration booklet at: www.wildifetrusts.org.uk/30dayswild
It's Kids' TV Week at Crealy!
An entertaining day out awaits young visitors to Crealy this May half-term as the weekly programme is packed with marvellous mini-shows from some extra-special guests. Kids' TV Week​ is the theme from Monday 28 May to Friday 1 June and starts with Basil Brush, everyone's favourite fox on the Monday. Sid Sloane, famous for presenting Children's TV, Sid Sloane will be performing in a mini-show for all to enjoy on Tuesday 29 May, and the enormously popular Octonauts will be entertaining crowds on the Wednesday. Theo the Mouse and his friend Wendy will be hitting the stage on the 31 May, and the heroic Fireman Sam will entertain in a fun-tastic mini-show on Friday 1 June. As well as the full programme of shows from these children's TV favourites, you can enjoy over 60 fantastic rides and attractions at Crealy this spring. For further details see www.crealy.co.uk
Enjoy an Explosive Day out at The Tank Museum
This May Half Term explore The Tank Museum and experience an explosive day out in history! See Tanks roll into action every weekday, ride in a tracked vehicle, and explore the brand-new exhibition, Tank – Back to the Future. There's tonnes to see and do: such as dressing up, listening to the free talks and tours, face-painting, enjoying the soft play, viewing the 300 vehicles and browsing around the ten powerful exhibitions. Plus, there are free family trails to keep the children absorbed with mind-boggling teasers and puzzles. Find out more here - www.tankmuseum.org
Get ready for the Great Brick Adventure at the BIC
The Great Brick Adventure - an interactive LEGO® experience will exhibit Mythical Beasts and The Great Brick Safari at Bournemouth International Centre from Thursday 26 to Sunday 29 July. Experience fantastical creatures from myth and legend and explore stunning life-like models of animals displayed in realistic jungle scenes. Enter the Dragon's Lair, step back in time, help build Harriet the Hippo or check-out the scorpions and creepy crawlies. Enjoy selfie-zones, animated and interactive features, games and chill-out areas. Read more at www.bhlive.org.uk
Monkeys go mad for melons at Monkey World
Join in the fun by taking in a melon to Monkey World as a present for the primates over the bank holiday weekends and receive a Monkey World badge. Monkey World is home to over 250 rescued and endangered primates, including Europe's only orangutan crèche. See the monkeys and apes living and playing in their natural family groups, and then monkey around in the South's largest adventure playground. Call 01929 462537 or visit www.monkeyworld.org for more details.
A Natural History Adventure at Castlepoint Shopping Centre
For the first time Dippy, the Natural History Museum's iconic Diplodocus skeleton cast, is on display outside of the capital. Taking a variety of forms, natural history adventurers can encompass a range of themes and Dippy's visit highlights the region's natural history collections and draws attention to the rich array of local biodiversity. It also helps young people connect with the natural world and gain a deeper understanding of it through science.
Many events and activities are happening in the southwest while Dippy is in Dorset. So, whether or not you can make it to see him at the Dorchester County Museum you will still be able to check out the natural history adventures in Bournemouth at Castlepoint Shopping Park from 28 to 30 May, where there will be loads of fun science experiments, exhibitions and workshops. See www.castlepointshopping.com
Visit the award-winning Adventure Wonderland this Spring
With summer on the horizon and Peppa Pig dropping in at May half-term on 30 May, it's the perfect time to take the children to Dorset's multi award-winning theme park, Adventure Wonderland. Despite scooping three top awards for its superb rides and attractions last year, including being voted Best Overall Attraction by Primary Times' readers, there's even more family-friendly attractions at the park this year.
Children are already enjoying the Busy Dizzy Dormouse play area, the Dance with the Stars marquee and a giant White Rabbit bouncer – plus, the Super Zap Zone in the indoor play centre will be opening soon. Keep up-to-date with events and deals at www.adventurewonderland.co.uk or follow on Facebook @adventurewonderland or call 01202 483444. Don't forget, there's a 10% discount on online bookings.
The Gruffalo's Child goes to The Lighthouse
Following hot on the heels of The Gruffalo's sell-out tour and monstrous West End success, The Gruffalo's Child will be at the Lighthouse, Poole's Centre for the Arts from 30 May to 2 June, bringing magical, musical fun for young children and their families. One wild and windy night the Gruffalo's Child ignores her father's warning and tiptoes out into the snow. After all, the Big Bad Mouse doesn't really exist … does he? Find out in this much-anticipated sequel, based on the award-winning book by Julia Donaldson and Axel Scheffler, as one of the cuddliest monsters ever to be seen on stage returns with more songs, laughter and scary fun. For tickets and information call 01202 280000 or visit www.lighthousepoole.co.uk
Family Celebrations and Parties at PierView
PierView is a new private venue located right on the beachfront close to Boscombe Pier. With stunning sea views, PierView is perfect for kids' parties and family celebrations. The venue is available all year round for hire on a self-catering, room only basis. There's seating for up to 50 people and a food prep and storage area, leaving you to choose and take food and drink for your guests. The PierView hire costs from £50. For more information, go to www.bournemouth.co.uk.
May Bugs and Mini Beasts at Wimborne Model Town
During Whitsun half-term week, from 26 May to 3 June, hunt for clues around the 1/10th scale miniature buildings, gardens and water features in the May Bugs and Mini Beasts Quiz at Wimborne Model Town. On Wednesday 30 May there is a chance to find out more about the little creatures that live in and around the Model Town as Dorset Wildlife Trust hosts a Discover Mini Beasts day from 11am – 3pm.
Mervin Cole presents his Whitsun Family Fun and Magic Shows, on 29 and 31 May, at 12 noon and 2pm. There is a new 1950s shop and school area this year, and for younger visitors, the popular Wendy Street has been completely refurbished with new play houses and a play train. With a special kids' menu in the Tea Room and gifts galore in the shop, there is plenty for everyone at Wimborne Model Town. See www.wimborne-modeltown.com or call 01202 881924.
Go on an Underwater Adventure this May half-term
Immerse yourself in the enchanting aquatic world at the Oceanarium, situated right next to Bournemouth Pier. With more than 1000 creatures, the Oceanarium hosts an array of spectacular sea species including rare logger-head turtles, mesmerising jellyfish and a range of stunning sharks, as well as the unmissable colony of Humboldt penguins and cheeky otter family.
Delve into the Abyss and spot the mysterious octopus and wolf eels, not forgetting to meet the cool iguana on the way. Tickets are valid all day, so you won't miss the regular talks and feeds. Plus you can pay a visit to the kids play zone, the Offshore Café or Bay View Terrace and explore The Cove shop. Book online for great savings at www.oceanarium.co.uk
Double the Fun - Lemur Landings and Splashdown Combo Tickets
Primary Times readers' favourite indoor play venue in Dorset for 2017 is delighted to welcome even more families to a fabulous, unique play environment. Bursting with play features from the traditional multi-level play-frame with tunnels to crawl through, biff bags to negotiate, bridges to cross and slides to an amazing interactive role play village.
There's also an exciting interactive climbing zone - the kids will love it. Got kids under 12? Book a combo ticket with Lemur's sister attraction, Splashdown, also at Tower Park – just how much fun can you pack into one day? See www.lemurlandings.co.uk or call 01202 740500.
Kingston Maurward Open Day: Sunday 24 June
There is free entry for everyone at this year's Open Day at Kingston Maurward. This family fun day will be showcasing students' work and giving visitors an opportunity to experience new skills in taster sessions, animal demonstrations throughout the day, tractor driving, pony rides, a climbing wall…and much more. Read more at www.kmc.ac.uk/about-us/openday
Go Exploring at The Priest's House Museum and Garden in Wimborne
The Family Explorers event at The Priest's House Museum and Garden in Wimborne on Tuesday 29 May, (from 10am to 2pm), will be packed full of hands-on creative activities, and with admission priced at just £1.75 per person, it is an affordable day out for all the family. In addition to this, there's a range of self-directed children's activities available throughout the year. Call 01202 882533 or visit www.priest-house.co.uk
Herb Growing Tips from Orchard Park
A fantastic way to introduce children to gardening is by growing herbs, due to their simplicity. You can make a herb garden anywhere and there are no hard and fast rules, but the best designs use some hard materials such as wood or brick pavers, dividing-up the area to give easy access for picking. Go for an informal mix or choose a formal pattern or cartwheel design. As a centrepiece plant a large, shrubby herb such as rosemary or sage, a formally clipped bay tree, or a box plant.
In small spaces herbs can be grown in pots, either planting them individually and grouping pots together into displays or creating bold combinations in larger containers. Garden mint is best in a pot which is then sunk into soil to keep it from spreading too far. As many herbs have Mediterranean origins they relish a site in full sun where they can bake during summer. Soil must be free-draining too, as wet and waterlogged ground will lead to root damage, and for pots choose a free-draining loam-based compost. For all your gardening needs visit Orchard Park Garden Centre at Shaftesbury Road, Gillingham, SP8 5JG. Visit www.orchardpark.biz or call 01747 835544.