We LOVE Half-Term Holidays with Micro Scooters! MINI MICRO 3IN1 DELUXE SCOOTER or MICRO 2IN1 BALANCE BIKE giveaway
Closing Date: 31st March 2019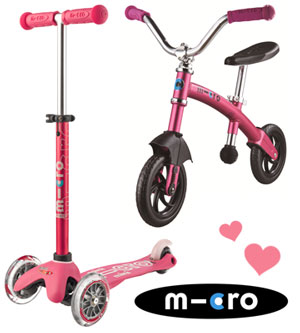 Newsletter Subscribers Exclusive*
Roll and ride in style this half term
MINI MICRO 3IN1 DELUXE SCOOTER | RRP £109.95
A ride-on, toddler and deluxe Mini Micro scooter all in one. The cleverly adaptable and exquisitely designed 3in1 Mini Micro will be the only ride on toy you will need, as the scooter will adapt and grow with your child. Use the seat at 12 months, until they are confident enough on their feet; at around 18 months, the O-bar will teach them to scoot with greater control, which can then be upgraded to the T-bar once they have found their stride, from around 2yrs+.
MICRO 2IN1 BALANCE BIKE | RRP £109.95
Designed to support children's development and coordination as they learn to ride a bicycle, the Micro Balance Bike, is perfect from aged two upwards. Weighing just 2.45kg / 5.4 lbs, the bike is easy to pick-up and manoeuvre. The adjustable handlebars and seat allow for best possible fit and the spring suspension allows for a smooth and balanced ride. What's more the innovative removable rear stabilising wheels offer just enough support to help keep the bike upright for very novice users, while still teaching them to balance.
Shop now: www.micro-scooters.co.uk
We are giving one lucky entrant the chance to win a MINI MICRO 3IN1 DELUXE SCOOTER or MICRO 2IN1 BALANCE BIKE.
For your chance to win, simply tell us which product you would like to win:
a) MINI MICRO 3IN1 DELUXE SCOOTER
b) MICRO 2IN1 BALANCE BIKE
*Winners will only be selected from our keep up to date subscribers