Win a GOOSEBUMPS 2 DVD
Closing Date: 31st March 2019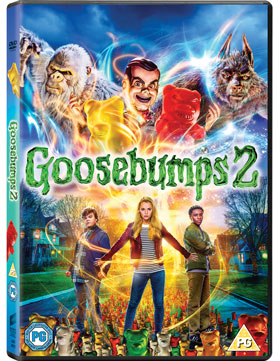 Newsletter Subscribers Exclusive*
You're in for a fun scare when Sony Pictures Home Entertainment unleashes GOOSEBUMPS 2 on Digital on February 11 and on Blu-ray™ and DVD February 18
Be careful what you wish for. With their after-school junk business, best friends Sonny and Sam hope to find treasure in other people's trash. But when cleaning out the old Stine house, they open a locked book that frees a supernatural nightmare - Slappy! Now, with the help of Sonny's sister Sarah, they're in a race against time to get the sinister dummy and all the creatures he's brought to life back into the pages before he unleashes total pandemonium!
We are giving away 3 GOOSEBUMPS 2 DVD's.
For your chance to win, simply answer the following question:
What do Sonny and Sam hope to find?
*Winners will only be selected from our keep up to date subscribers