Win a copy of Mr Tiger, Betsy and the Blue Moon
Closing Date: 28th February 2019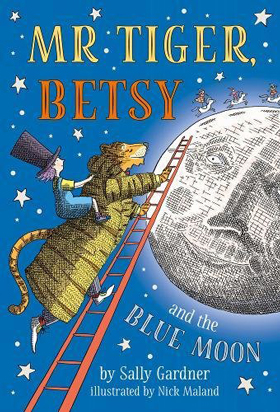 Newsletter Subscribers Exclusive*
Sally Gardner's enchanting series, illustrated by Nick Maland, is a fairy tale full of traditional ingredients. When Betsy K. Glory, the daughter of a mermaid and an ice-cream maker, meets the mysterious Mr Tiger they have a giant challenge: a moon to turn blue, berries to collect and wishable-delicious ice-cream to create. The sort that makes wishes come true.
With Mr Tiger and his troupe of Gongalong circus acrobats, a toad under a spell, a lonely giant, and Mum and Dad, Betsy sets off on her quest.
Mr Tiger, Betsy and the Blue Moon is published by Zephyr | RRP £10.99
We are giving away 5 copies of Mr Tiger, Betsy and the Blue Moon.
For your chance to win, simply answer the following question:
How many Blue Moons occurred this year?
a) twelve
b) eight
c) two
*Winners will only be selected from our keep up to date subscribers